---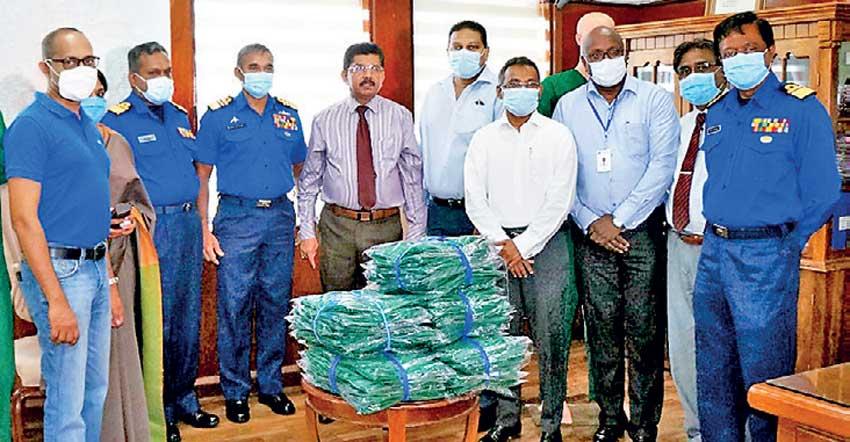 The event took place with the participation of the Commander of the Sri Lanka Navy Vice Admiral Piyal De Silva, Deputy Director General of Health Dr. Ananda Jayalal, and Head of CSR, Nations Trust Bank, Theja Silva. Senior officials from Nations Trust Bank including Ramanika Unamboowe – Executive Vice President, Human Resources, Sanjaya Senarath – Chief Marketing Officer, Nisaja Aryasinghe – Vice President, and Health Ministry staff
Priyantha Talwatte, Chief Executive Officer of Nations Trust Bank PLC symbolically handed over medical scrub suits for frontline healthcare workers combating the COVID-19 pandemic in Sri Lanka, to Director General of Health, Dr. Anil Jasinghe, in Colombo on April 11th.

This simple event took place with the participation of the Commander of the Sri Lanka Navy Vice Admiral Piyal De Silva, Deputy Director General of Health Dr. Ananda Jayalal, and Head of CSR, Nations Trust Bank, Theja Silva. Senior officials from Nations Trust Bank including Ramanika Unamboowe – Executive Vice President, Human Resources, Sanjaya Senarath – Chief Marketing Officer, Nisaja Aryasinghe – Vice President, and health ministry staff also attended the event.

In its endeavour to support the national cause against the coronavirus outbreak, the Nations Trust Bank CSR team approached officials of the Department of Health and Indigenous Medical Services led by Dr. Anil Jasinghe and Dr. Ananda Jayalal to understand the most pressing needs of the hour for the health services and healthcare personnel.

Following these discussions, the bank decided on manufacturing medical scrub suits to be distributed to all designated COVID-19 specialty hospitals for frontline health workers who put their health at risk for the benefit of all Sri Lankans, with the full support and backing of the ministry. The Sri Lanka Navy supported the bank in this initiative, taking over the responsibility of tailoring the material to specification. The collaboration between the SL Navy and the bank was facilitated by health ministry officials, whose support bolstered the bank's initiative.

This has enabled the bank to channel the entire pledged donation to purchase material from registered suppliers under the supervision of ministry officials, to produce 4,500 medical scrub suits for frontline healthcare workers.
Speaking on the initiative, Priyantha Talwatte, Chief Executive Officer of Nations Trust Bank PLC said, "Given the present context as we battle the global pandemic to secure our nation against the COVID-19 outbreak, we understand that it is our responsibility to support the frontline of the healthcare sector who is protecting the citizens of our nation, whilst risking their own safety and lives. "It is in this light that we pledged to provide 4500 medical scrubs to healthcare workers in collaboration with the Sri Lanka Navy. On behalf of our team, we like to thank the Sri Lanka tri forces, Sri Lanka Police and the front line medical personnel for their continued services in fighting this pandemic in this challenging environment. Our team and our customers at Nations Trust Bank are fully committed to support this National cause at this
time of need."

The donation of the 4500 medical scrub suits is the first of several initiatives planned by the bank in consultation with ministry officials to best support the fight against COVID-19. Bank officials are currently liaising with health officials to understand future requirements such as Personal Protective Equipment (PPEs) etc. and are ready to donate them based on available resources.