---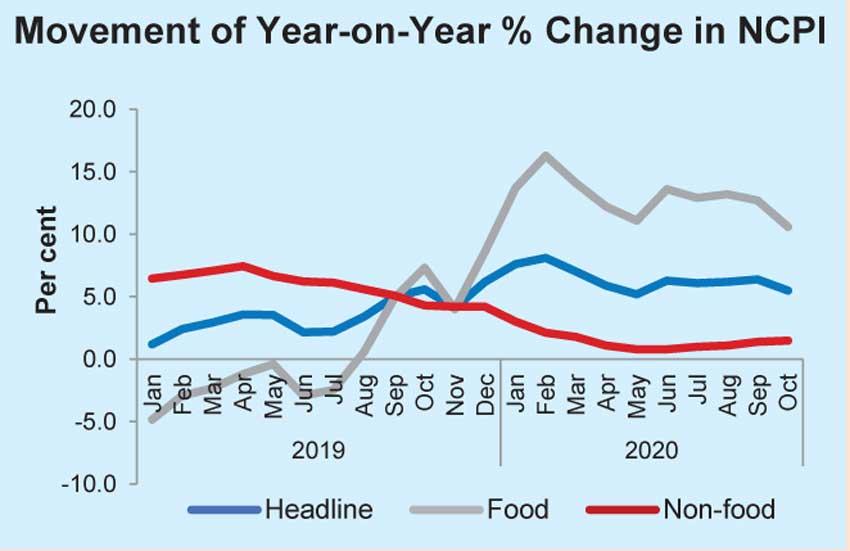 Sri Lanka's national prices descended to a six-month low in October predominantly on some ease in food prices and non-food prices over the same month in 2019, the latest data on inflation measured by the National Consumer Price Index showed.

According to the national price gauge, prices of the food and non-food basket rose by 5.5 percent during the twelve months to October 2020, decelerating from 6.4 percent increase in September.
Food prices were the key to the change in direction of the national price index as food inflation slowed to 10.6 percent in October over the same month in 2019 from 12.7 percent in September.

On a month-on-month basis too the increase in prices decelerated to 0.3 percent from 1.1 percent in September.
The key commodities, which altered the food inflation in October, were the prices of fresh fruit such as banana and papaw, fresh fish, eggs, vegetables, chicken and sugar.

The isolation of key populous regions such as Gampaha and lockdown of the entire Western Province for about 10 days in October may have dented the demand for the food produce.

Meanwhile, doubt in the minds of the people over consuming fish after the new COVID-19 cluster found in the Peliyagoda fish market appears to have dampened the demand for fish.

Meanwhile, the government removed import taxes on key food items such as dhal, canned fish, big onions and sugar in mid-October.

However, prices of big onion, rice, red onions, and coconut were among the commodities which registered an increase in prices in October compared to September.

Meanwhile, non-food inflation changed a little to 1.5 percent in October over the same month last year, from 1.4 percent in September but MoM prices eased to 0.1 percent from 0.4 percent, demonstrating restrictions on mobility imposed in the latter part of the month.

The core national inflation— movement in prices measured barring the often-volatile items such as food and energy— also eased in October to 4.5 percent over the last twelve months from 4.8 percent in September.

Sri Lanka's retail prices broadly remain benign due to higher agricultural produce coming into the market and the absence of demand pressure due to coronavirus.