---
DCS resumes on-site price collections from third week of May as lockdowns ease
Sri Lanka's consumer prices measured based on the broader National Consumer Price Index (NCPI) or national prices rose by 5.2 percent in the twelve months to May, marking a deceleration from 5.9 percent in April on the higher base that prevailed in the same month a year earlier, the data from the Census and Statistics Department (DCS) showed.

DCS said its officers resumed on-site collection of prices in all districts from the third week of May after nearly two months of hiatus.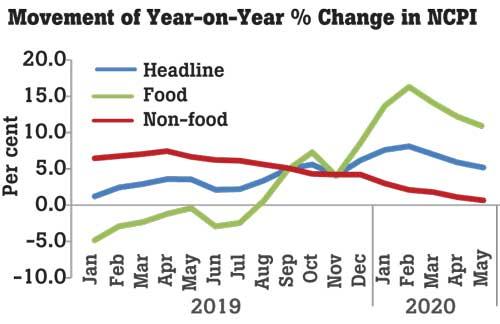 On-site price collection by the DCS officers was restricted to some essential items during the lockdowns, as the department had to suspend on-site visits from the third week of March due to lockdowns imposed to stem the spread of coronavirus.
"For all districts, from third week of May 2020 onwards, the regular district price collection was started again by the DCS price collecting officers according to the district price collection time schedule," SDC Director General Dr. I.R. Bandara said.

Sri Lanka's national prices followed the Colombo consumer prices, which also registered a deceleration to 4.0 percent in May on YoY basis from 5.2 percent in April. There is typically a three week lag between the Colombo prices and national prices.

While the food prices showed some easing on YoY basis to 11.1 percent in May from 12.2 percent nationally, the prices rose from a month earlier, as the MoM prices rose by 1.1 percent after declining 0.7 percent in April.

The prices of many food varieties such as vegetables, turmeric powder, fresh fish, dhal, chicken, coconut oil, sugar, rice, canned fish and many other items rose during the month while the prices of big onions, coconuts, fresh fruits, potatoes and some varieties of spices declined from April.

However, the authorities have ruled out the possibility of an escalation of food prices during this year unless caused by a supply shock as there is no signs or room for excess demand and the economy is projected to grow much below its potential, causing less room for overheating of the economy despite the higher money supply.

The Central Bank forecasts 4 to 6 percent inflation range through the end of this year.

However, the Monetary Board last week decided to provide additional support by way of Central Bank liquidity to further support the economic revival battered by the pandemic.

As the Central Bank liquidity is aimed to support SMEs and other businesses affected by the pandemic, it could significantly prop up the output and therefore offset any price pressures in the economy.

Meanwhile, non-food inflation, which eased to 0.8 percent in May on YoY basis from 1.1 percent in April, did not show any movement on MoM basis.

While price decreases were reported in groups of items such as alcoholic beverages, tobacco & narcotics and recreation and culture, prices rose in car insurance and vehicle purchases followed by slight price increases in groups of furnishing, household equipment routine household maintenance' and clothing and footwear compared to the preceding month, as people gradually resumed their daily routines with the easing of social distancing rules.

The price indices of housing, water, electricity, gas and other fuels, health, communication, education and restaurants and hotels groups remained unchanged during the month.
The so-called core prices measured barring the impact of often volatile items such as food and energy rose to 3.7 percent in May on YoY basis, accelerating from 3.2 percent in April.