---
Businessman Nahil Wijesuriya yesterday transferred his majority stake in East West Properties PLC, which has a subsidiary operating a Marriot hotel in the country's south coast, to his two sons and the daughter in a Rs.1.1 billion deal.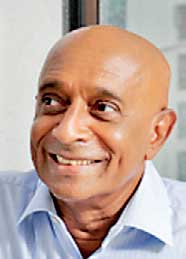 Asia 2000 Investment Inc., whose sole owner was Wijesuriya, yesterday divested its 88.3 million East West Property shares representing 63.9 percent of the issued shares of the company to Vajira Wijesuriya, Vijitha Wijesuriya and Anika Wijesuriya—each 21.3 percent stake.

The shares were transferred in three crossings priced at Rs.12.40 a share. As at June 30, 2017 the net asset value of East West Properties stood at Rs.10.57.

Following the transaction, Vajira Wijesuriya has 21.3 percent stake in East West Properties, Vijitha Wijesuriya has 25.83 percent stake and Anika Wijesuriya has 21.55 percent stake.

Apart from holdings through Asia 2000 Investment Inc, Nahil Wijesuriya directly holds 16.29 percent of shares of East West Properties.

All four involved in the transaction are directors of East West Properties, which is currently in the Default Board of the Colombo Stock Exchange for the non-submission of annual reports for the year ended March 31, 2017.
The buyers of the shares, the Wijesuriya children, are of the view that the transaction does not call for a mandatory offer under the Takeovers and Mergers Code of the Securities and Exchange Commission given the close relationship between the seller and buyers.

"…on the basis of the close relationship that exists between the above parties to the transaction and therefore 'a party acting in concert' with it so that the aforesaid transaction of shares of East West Properties PLC amounts to a transfer between ' parties acting in concert,'" a stock market filing by East West Properties said.

East West Properties has a 71.8 percent stake in its subsidiary Weligama Hotel Properties, which operates 198-room Marriott Resort & Spa in Weligama Bay that began operations July 2017.
East West Properties share closed at Rs.12.90 yesterday, up 50 cents or 4 percent.