---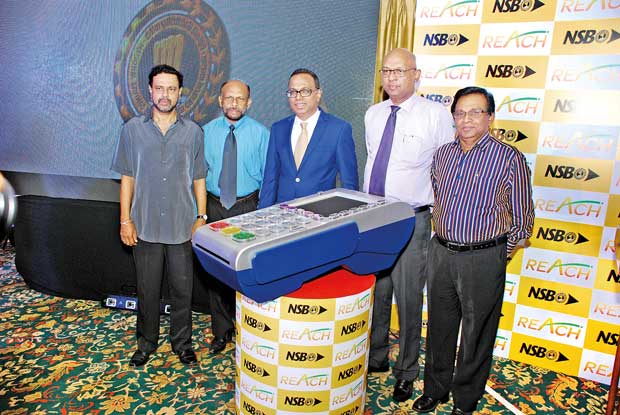 From left: NSB PMG and Director Rohana Abeyrathne, NSB Director Anil Rajakaruna, NSB Chairman Aswin De Silva, NSB GM/CEO Dhammika Perera and NSB Director Suranga Naullage
As a responsible state bank, National Savings Bank (NSB) has introduced a new programme to provide banking facilities at your doorstep. The programme named 'NSB Reach' was launched recently at the bank's head office in Colombo and will be implemented through the islandwide NSB branch network under the theme 'Your address is our address'.
Earlier, the customers had to go to the branch mentioned in their passbooks. Now, since the bank will be coming to the doorstep of the customer with the NSB Reach programme, it is not necessary for the customer to visit the branch any longer. Accordingly, NSB Reach will be carried out under the theme, 'your address is our address'.
With a branch network of 250 branches islandwide and the postal banking network offices, the bank expects to strengthen its presence among the people through NSB Reach because the bank firmly believes in providing banking and financial services to all sectors of the country. The bank often makes it a point to fulfil this responsibility entrusted to it by paying attention to three major aspects: availability, accessibility and affordability, when delivering banking services to the customer. NSB Reach has been designed with greater focus on catering to the banking needs of the people based on these three aspects.
Traditionally, the banking hours have been limited to a few hours from 9:00 a.m. to 3:00 p.m. Most often the people who are employed may not get a chance to go to the bank during the day time and after work the bank is closed and the banking services are not available. Thus, the availability is essential. It derives the person the opportunity to obtain the expected service. Therefore, accessibility is always important. Even if both availability and accessibility are assured, people may not be able to afford the services. With the lowest initial deposit amounts, NSB often ensures affordability
for its customers.
Now through NSB Reach, NSB offers a productive, innovative and satisfactory banking experience featuring all these three aspects, as the bank visits the customer and collects their payments. The bank officers visit all segments of society including farmers, teachers, etc., and all places including mini super markets, small and middle-scale industries and factories. People can also open savings accounts at a day scheduled earlier. A bank officer will visit once a month at a day previously scheduled to collect payments after opening the account.
As the initial stage of the programme, the customers can only open savings accounts and other banking services will be offered later. The individual customers also can obtain the banking services at their doorstep on a request to the bank.