---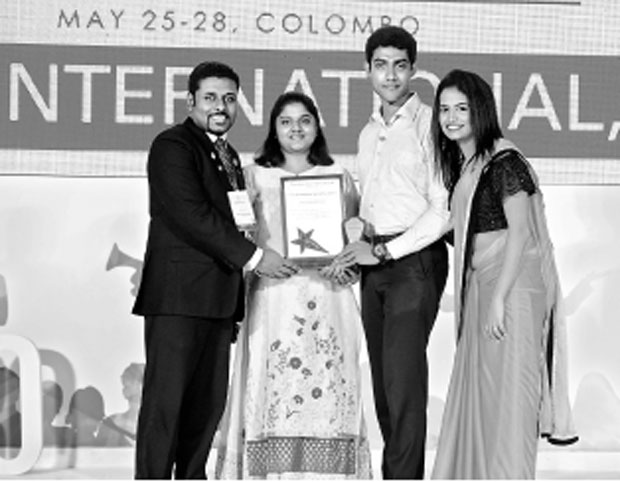 From left: Division E Public Relations Manager Moditha Sendanayake, District 82 Programme Quality Director Suganthi Periasamy, NDB Toastmasters Club President Dinushan Tennakoon and NDB Toastmasters Club Vice President Public Relations Saranga Perera
National Development Bank PLC (NDB) initiated the NDB Toastmasters Club on October 31, 2013 and joined the Global Toastmasters fraternity. Since its inception, NDB Toastmasters Club has completed four very successful years and has helped many staff members to improve on their communication and leadership skills whilst giving them confidence to participate in many professional forums.

The club was presented with the Eight-80 Membership Development and Best Media Relations International awards at the Ovation 2017 - District 82 Toastmasters International Conference held in Sri Lanka recently, at Waters Edge, with the participation of Toastmasters representing Sri Lanka and Tamil Nadu, India.

NDB Toastmasters Club members actively participated in many conference roles and the club's presence was appreciated by all the distinguished guests, including International President DTM Mike Storkey and International President Elect DTM Balraj Arunasalam.

Eight-80 Membership Development award was presented to the clubs in the Toastmasters International District 82 (Sri Lanka and Tamil Nadu) which have shown excellence in membership retention and new member enrolment targets.

The Best Media Relations Award was presented to NDB as the best club in the Toastmasters International District 82 (Sri Lanka and Tamil Nadu).

This award was presented on the basis of the volume of exposure and increased awareness created for the club through electronic media or press on Toastmasters and the particular club.
NDB remains dedicated to bringing its customers one step closer to accomplishing their lifelong ambitions and uplifting their standards of living through the range of services that is accessible through its growing branch network.