---
National Development Bank PLC (NDB) reported an after-tax profit of Rs. 1.03 billion or Rs.6.13 a share for the July– September quarter (3Q17), which is an increase of 17.2 percent from the same period last year, the interim financial accounts showed.

The development lender-turned-commercial bank managed to keep its loan book ticking fast during the nine months as the bank expanded its loans and receivables by a strong Rs.30.8 billion or 13.2 percent.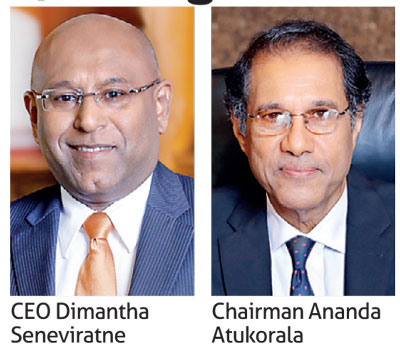 The bank on a standalone basis had loans and receivables book of Rs.264.5 billion by September end.

The bank also grew its assets by 11.0 percent to Rs.370.8 billion during the same period.
However, the future asset growth is largely limited unless NDB infuses fresh capital qualified for Tier I under new BASEL III minimum capital requirements.

As at September 30, 2017, the bank's Tier I capital adequacy ratio stands at 8.77 percent against the minimum requirement of 7.25 percent, which will further go up to 7.875 percent by January 1, 2018.
Meanwhile, NDB's net interest income rose by as much as 30.5 percent on year to Rs. 2.99 billion for the three months.

During the 9 months the bank generated a net interest income of Rs.7.9 billion, up 21 percent from the comparative period in 2016.

Accordingly, the earnings for the nine months rose 26 percent year-on-year (YoY) to Rs.2.52 billion or Rs.14.95 a share.

NDB was able to contain the narrowing of margins, which helped to post a better core-banking performance, as the bank improved its net interest margin to 2.90 percent from 2.64 percent at the start of the year.

The specific provisions almost halved to Rs.364.6 million from Rs.704.3 million last year, but the general provisions rose by 41 YoY percent to Rs.439.2 million.

But the situation was different in the July-September quarter as the provisions were higher by about Rs.108 million.

But the gross non-performing loan ratio fell to 1.96 percent from 2.63 percent, which is a positive sign of improving asset quality.

Meanwhile, the net fee and commission income were higher by 17.5 percent YoY to Rs.868.9 million for the quarter providing useful anchor to profits.

Bank's trading activities brought in Rs.260.3 million in gains, up from Rs.226.7 million a year earlier for the quarter.

The net gains from financial investments also rose sharply to Rs.403.3 million from Rs.172.1 million a year earlier. The deposits grew by a strong 25.3 percent or Rs.51.5 billion during the 9 months.

However, the bank's low cost deposits as a share of total deposits slipped to 20.4 percent from 22.8 percent.

As of September 2017, controversial primary dealer, Perpetual Treasuries held 4.45 percent of NDB being the 7th largest shareholder.

Another 2.03 percent stake was held by Perpetual Equities (Private) Limited taking the total stake held by the Perpetual Group in NDB up to 6.48 percent.

The government held slightly above 30 percent stake in NDB through Bank of Ceylon, Employees' Provident Fund and Sri Lanka Insurance Corporation.