---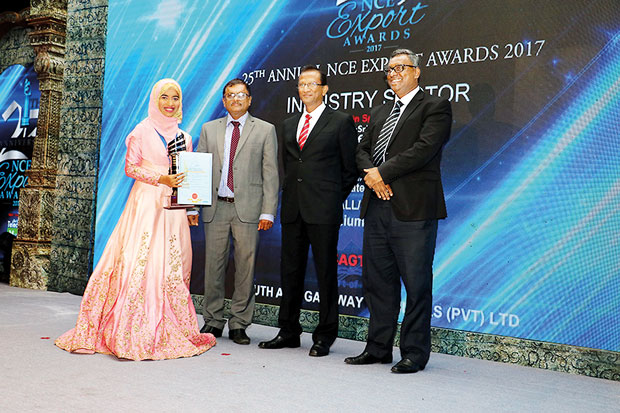 Macksons Marketing Director Aqla Mizver Sajjaad receives the Export Award in the presence of EU Sri Lanka National Project Coordinator Trade-Related Assistance Dr. Dayaratna Silva, South Asia Gateway Terminals IT General Manager Upul Jinadasa and the Colombo Plan Secretariat Senior Programme Officer Dr. Thomas Scaria
Sri Lanka's favourite brand of household paint, Multilac received a Silver award for the Industry Sector at Export Awards 2017, held by the National Chamber of Exporters, recently.

Macksons Paint Industries (Pvt.) Ltd Director Marketing Aqla Mizver Sajjaad received the award at the gala event held at The Hilton Colombo. Prime Minister Ranil Wickramasinghe was the chief guest.
The occasion also marked the 25th year of the award that recognizes the excellence of Sri Lankan exporters who market locally manufactured high-quality products globally, bringing in valuable foreign exchange for the country.

Multilac exports paint and surface coating solutions to India, the Maldives, Oman, Saudi Arabia, Australia, the Seychelles, Vietnam, Malaysia, Madagascar, Pakistan, Myanmar, the Congo and Trinidad and Tobago. Their extensive export range includes decorative and weather resistant paints, water proofing, wood care products and auto paints. Multilac Colourbank, Multilac Platinum, Ital Wood, Multilac Auto, Micron and Mitsuko are some of the popular brands marketed by the company.
Macksons Holdings Managing Director Mizver Makeen commented, "Winning an Export Award once again is a significant achievement which we are proud of, as it demonstrates our commitment to our nation. More importantly, it showcases the quality of our products that have been successful in the international arena, which is much more competitive."

Multilac is among the first three global paint companies to receive the prestigious certificate for conformity as a safe paint from IPEN America. This global recognition strengthens Multilac's ability to seek export markets, proving that the company's product range adheres to international standard for lead safety.

Multilac is the first and only paint brand in South Asia to be certified Lead Safe by IPEN America. The company was recently invited to participate in the Master Builders Association Trade Night 2017 held in Australia, where they were able to introduce its innovative products to Australian Master Builders.
Multilac has a dealer network of over 4,000 in Sri Lanka and has been at the helm in the paint and surface coatings industry for over 35 years and it's a 100 percent Sri Lankan-owned and operated paint company. It is the only paint brand in Sri Lanka to obtain the three stars of Green Label Certification issued by Green building Council, CIOB Green Mark Certifications conform by Ceylon institute of builders and Lead Safe Certification from IPEN America.

Multilac has received the Quality Management System (QMS), Sri Lanka Standards (SLS) and the ISO 9001:2000 and 14001:2015 certifications. It has international know-how and global technology partners such as BASF, BAYER, DOW, Samsung, Huntsman and Croda and many more. Today Consumers are proud to be associated with Multilac and takes pride in using a heritage brand recognized globally from our motherland.