---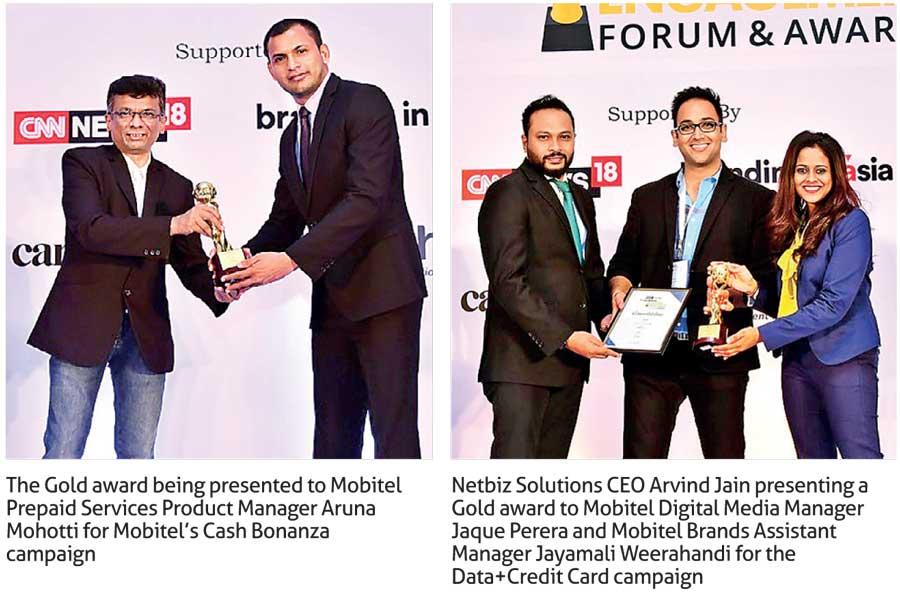 Sri Lanka's national mobile service provider, Mobitel, walked away with five highly coveted awards at the prestigious ACEF Global Customer Engagement Forum, which took place recently at the Westin Hotel in Mumbai, India.

The eminent panel of judges at the ACEF awards bestowed two Gold awards on Mobitel, in the Innovative Loyalty Programme category for Cash Bonanza and under the Innovation category for Mobitel's Data+Credit Card campaign.

The company also secured a Gold Special Award for its Suicide Prevention campaign, for the best use of a social message in consumer engagement. The Sri Lankan telco was also awarded Silver in a Special Award category titled Most Admired Mobile App, for its SelfCare App.

The company also won another Silver for its Suicide Prevention campaign for the best use of a CSR activity.

The highlight of the event was the recognition that brands, agencies and marketers received for their campaigns and creative activities using various mediums of marketing along with excellence in artificial intelligence. This year the awards programme had over 220 clients and agencies from across the globe.

The eighth edition of the ACEF Global Customer Engagement forum was focused on artificial intelligence and featured an impressive line-up of speakers who were top corporate leaders from India.

The event was attended by senior level professionals from marketing, branding, and marketing agencies. The jury for the Global Customer Engagement and AI awards is invited from all over the world.

The jury panel consisted of some of the most brilliant and creative minds across various industries in India. The awards were adjudged based on whether the selected campaigns resulted in driving revenue growth, whether they increased productivity and efficiency, and if they generated greater return on investment ROI on marketing spend.

Delighted to be bestowed with the celebrated ACEF awards, Mobitel CEO Nalin Perera said: "We take immense pride in being recognised in the presence of regional corporate giants with the ACEK Global Customer Engagement Awards. As a company which truly cares for its customers, Mobitel had been innovating across various channels to deliver customer satisfaction each and every time.