---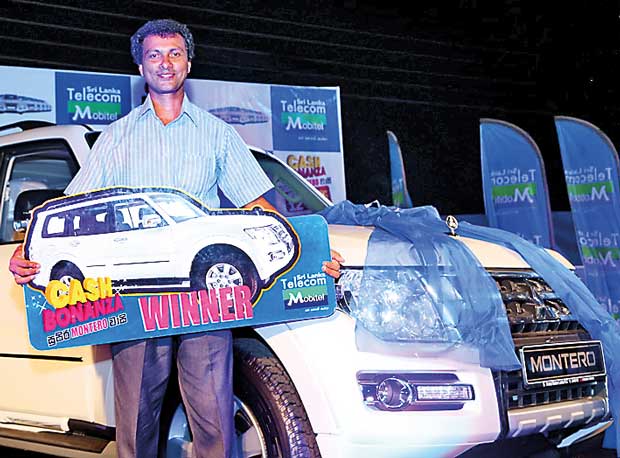 Cash Bonanza Montero Extravaganza 2016 introduced by the national mobile service provider, SLT Mobitel, has become one of the most popular competitions in the country. It rewards customers on a monthly and daily basis an amazing Rs.3,500 lakhs, including 12 luxury Mitsubishi Montero jeeps to 12 lucky winners.
Six lucky winners have already walked away with a luxury Montero each from Mobitel. The lucky winners for January, February, March, April, May and June are N.G. Shanika Srimali from Ambalantota, J.M. Thushantha Jayalath from Wariyapola, R.M. Roshan Priyadarshana from Badalkumbura, R.M.B.P.P. Kumari from Nittambuwa, P.A. Kusumawathi from Thanamalwila and R.D. Nimal Jayasinghe from Padavi Shri Thissapura, respectively.
The seventh lucky winner to walk away with the Montero for July 2016 is W. Vijith Rodrigo from Kalutara. Cash Bonanza Montero Extravaganza 2016 will be awarding another five lucky winners Monteros for the remaining months of 2016.
The Cash Bonanza prize giving for July was held at Kuliyapitiya Urban Council Grounds and commenced with a musical show where the performing band was 'Sunflower' along with various popular artist performances. Rodrigo was awarded by SLT Mobitel Chief Operating Officer Nalin Perera. Including the seven brand-new Mitsubishi Monteros, Cash Bonanza has awarded a total of 394,056 customers with prizes worth over Rs.2,040 lakhs up to July 2016.