---
Metecno Lanka (Pvt.) Ltd has successfully implemented its branch expansion initiative to cater to the needs of the Metecno Lanka's customers
more efficiently.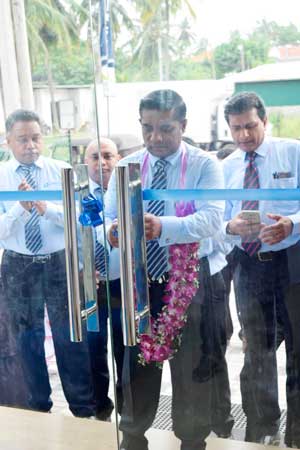 Metecno Lanka (Pvt.) Ltd proudly opened its sixth branch in Negombo at No.440, Colombo road, Negombo and will be a potential partner who will assist the community in the Negombo region providing total roofing solutions for their construction purposes.

Many dignitaries including Director/Chief Executive Officer Anuksha Sri Nammuni participated in this opening ceremony along with, senior executives of the company and other individuals including customers and community leaders. The ceremony was made more glamorous with various cultural performances.

Nammuni stated: "Our loyal customer base has been our strength and they have kept us as the market leader for over two decades in this industry. Our customers have been requesting for a branch in this area for a long time and we have opened this branch to serve them better. We are also in the process of introducing new products which will give the construction industry a versatile new product range and will add value and enhanced safety to any building."

Metecno Lanka (Pvt.) Ltd formerly known as Metroof (Pvt.) Ltd is the most highly acclaimed roofing solutions provider in Sri Lanka, for sustainable and eco-friendly roofing solutions since 1993, and is the trusted roofing solutions partner for many construction projects and is the premier choice for most of the leading architects and consultants. The company was a pioneer in introducing zinc aluminum roofing solutions to the country. Metecno Lanka is a part of the global Metecno group, a leading insulated panel manufacturer in the world. Metecno group constitutes over 25 installations in 18 countries across the world including Europe, Asia and
Latin America.

Over the years Metecno Lanka has introduced many new products to the construction sector and is considered valued member in the construction industry. The company has a product range from basic steel roofing sheets to the modern energy saving and ecological roofing Metecno polyurethane sandwich panels, which comes with no health risks, fire safety and simple installation techniques and vibrant colors.