---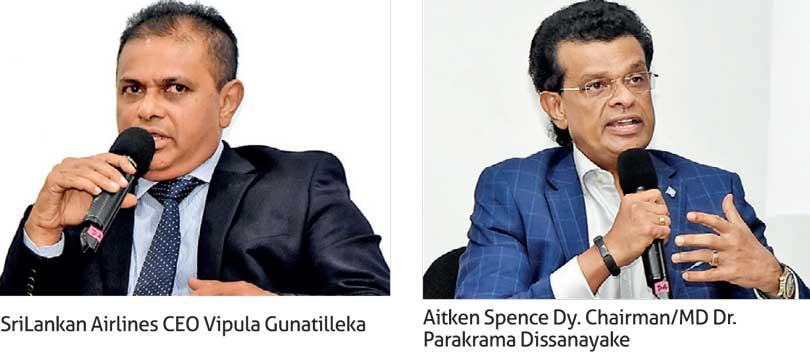 Tourism industry also calls for independent security audit to restore confidence among int'l community
Sri Lanka needs to have a medium-term strategy in place to restore the European and Australian air-traffic to pre-Easter Sunday levels as rate reductions will only have a limited impact on attracting Europeans and Australians back to the country, SriLankan Airlines CEO Vipula Gunatilleka said.

He noted that tourist arrivals from Europe and Australia will take "sometime" to recover to previous levels while tourist arrivals from the Indian sub-continent, China and Asia Pacific are expected to bounce back faster. He was speaking at a panel discussion organised by CIMA, Acclivity Training and Leo Burnett Sri Lanka in Colombo this week.

Aitken Spence Deputy Chairman and Managing Director, Dr. Parakrama Dissanayake proposed that the government should consider hiring an independent security expert to conduct a security audit to alter the perception on security and safety of Sri Lanka among the international community. "The security forces are saying everything is fine, which we accept, but the foreign community is not buying that story. It's like a finance manager saying that the accounts are alright without an independent audit," he stressed. He pointed out that a similar security assessment was carried off following the 2001 terrorist attacks, which targeted Bandaranaike International Airport.

According to him, a record 78 weekly inbound flights to the country have been cancelled in the aftermath of Easter Sunday attacks, which amounts to over 300 flight cancellations per month.
Further, Dr. Dissanayake urged the government to consider subsidising unutilised seats of charter flights to the country as a way of boosting tourist arrivals.

Meanwhile, SriLankan Airlines expects tourist arrivals from Middle East to take a hit as a result of the communal violence that erupted in the country on May 13, three weeks following Easter Sunday attacks.

Sri Lankan tourism stakeholders took part in the Arabian Travel Market (ATM) held in Dubai in the immediate aftermath of Easter Sunday attacks where the country received a warm welcome.

Gunatilleka noted that travel operators at ATM had expressed their eagerness to resume tours to Sri Lanka as soon as the security situation was restored in the country.

Airline operators, hoteliers and tour operators were also planning to launch a promotional campaign in the region to attract tourists following the Ramadan festival.

"We started talking to operators at ATM where we had a huge sympathy factor; all of them wanted to visit Sri Lanka. However, it will take a long time for us to recover due to the damage created by communal violence," he said.

SriLankan Airlines has seen the highest number of cancellations coming from China and Asia Pacific while air traffic from India held on.

As China has already relaxed their travel advisory on Sri Lanka, Gunatilleka said tourism stakeholders including airlines have come up with incentives to boost air-traffic from the region.
(NF)

Pix By Nimalsiri Edirisinghe