---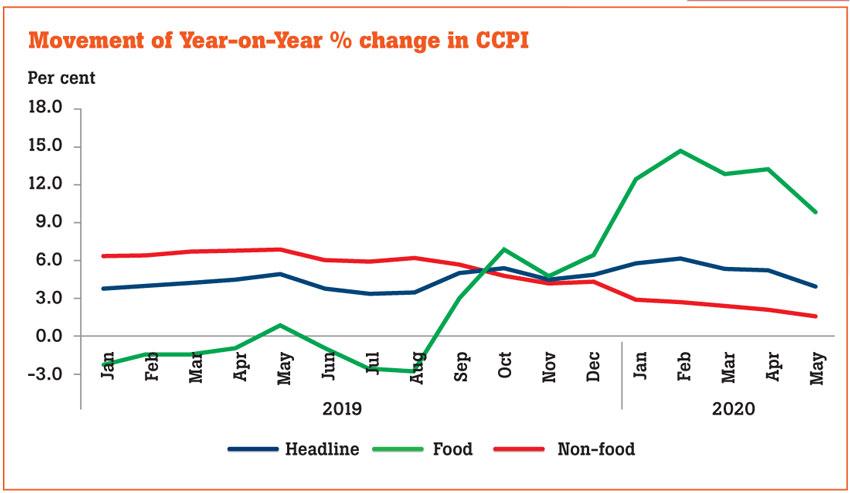 Authorities rule out possibility of higher prices in 2020
Sri Lanka's headline inflation measured by the Colombo Consumer Price Index declined to 4.0 percent during the twelve months to May, decelerating from 5.2 percent in April due to higher base effects that prevailed in the same month last year.

Sri Lanka's prices have been easing since March as demand has been muted due to coronavirus-related lockdowns curtailed spending to mostly essentials as people were sheltering at homes with limited economic activities.

The Central Bank last week defended its 4 to 6 percent inflation target through the end of this year despite some substantial monetary and fiscal stimulus as economic growth is projected at well below its potential as the pandemic grounded the economy to a halt for two months. Although some fear that the record-low interest rates, other liquidity support schemes by the Central Bank and the fiscal stimulus, which put money in people's hands during lockdowns, could lead to higher prices, but authorities rule out the possibility of overheating of the economy as growth for 2020 is projected at a muted 1.5 percent, from 4.5 percent earlier.
Meanwhile, both food and non-food prices showed an uptick in May from April but prices remained lower from a year ago.

Food price inflation rose 1.3 percent in May on a month-on-month (MoM) basis, accelerating from 0.4 percent increase in April.

Prices of rice, sea fish, dried fish, canned fish, milk powder coconut oil, fruits, dhal, sugar, and spices rose in May while pries of eggs, coconuts, vegetables and big onions eased.
Meanwhile, on a year-on-year (YoY) basis, food inflation declined to 9.9 percent from 13.2 percent in April.

Food inflation in Sri Lanka is expected to remain muted as authorities have been encouraging people to cultivate various types of vegetables, fruits and grams in their home gardens while the government distributed seeds and introduced concessionary rate loan schemes for small scale growers via the banks.

Meanwhile, farmers were assisted in numerous ways and State banks have introduced new concessionary rate loan schemes to assist the farming community.

The government is also discussing ways to release government-owned arable lands for mass scale cultivation, as food security has become a national priority.

Meanwhile, the non-food inflation rose by 0.1 percent on a MoM basis in May with transport subcategory showing some increase as people started going back to work after nearly two months of self-isolation and working from home.

However, on a YoY basis, non-food inflation declined to 1.6 percent from 2.1 percent in April.

Meanwhile, the so-called core prices, which are measured barring the often-volatile items such as food, energy and transportation, rose by 2.9 percent, decelerating from 3.1 percent in April.