---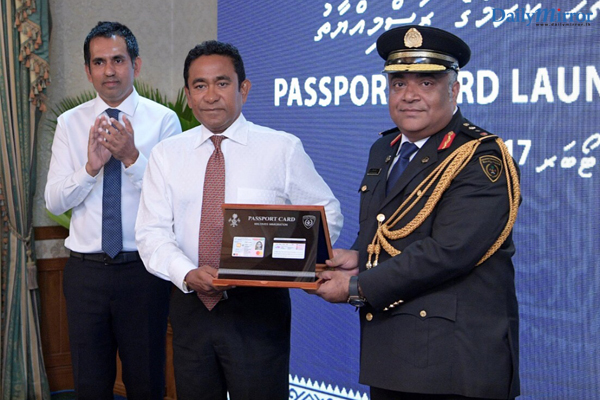 From left - Mohamed Saeed, Minister for Economic Development, Republic of Maldives; President of Maldives, H.E. Abdulla Yameen and Mohamed Anwar, Controller General of Maldives Immigration
His Excellency the Hon President of the Maldives Abdulla Yameen introduced the Mastercard Passport Card to the cabinet ministers at his office recently. Top cabinet ministers and department heads such as the Minister of Economic Development, Minister of Home Affairs, Minister of Defence and National Security, Minister of Finance and Treasury, Minister of Foreign Affairs, Minister of Tourism, the Attorney General, Chief of Defence Force, Commissioner General of Customs, Controller General of Maldives Immigration, the CEO of the Bank of Maldives along with Mastercard Country Manager for Sri Lanka and Maldives R B Santosh Kumar were present at the occasion.
Maldives Passport card is a Mastercard Biometric Debit Card issued by the Bank of Maldives. It is a Dual Interface Chip card with additional features and applications. It is the first Payment card in the World by a network which has Passport, National ID and Driving license of the cardholder in one plastic card. The Mastercard Passport Card can be used for a wide range of purposes/services. Primarily the Passport Card is an identity travel document complying with the ICAO data standards allowing it to be used at e-gates at the Maldives International Airport. Additionally, it can be used for identity verification by law enforcement agencies. It can also be used to provide government services such as medical services and other e-services.
The card can be utilized as a special insurance card when required, for cashless health insurance services and motor insurance policy verification. The Mastercard Passport Card is the world's first bank card which is made of polycarbonate material that can last up to 10 years. The flexibility of the Passport Card allows additional services and information to be incorporated to the card. E-services such as e-transport, academic information, medical information and many more can be included. For added security the card will contain biometric data of the cardholder such as fingerprints.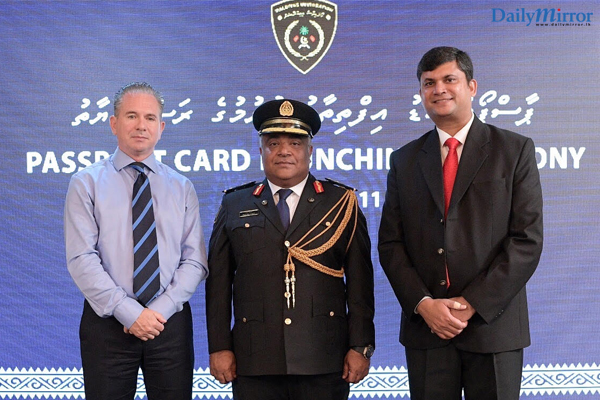 From left - Andrew Healy, Chief Executive Offer (CEO), Bank of Maldives; Mohamed Anwar, Controller General of Maldives Immigration and R. B. Santosh Kumar, Country Manager - Sri Lanka and Maldives Mastercard at the event
The card is certified by Mastercard and the Bank of Maldives allowing cardholders to use it internationally like any other Mastercard. The additional passport security features makes the card more secure than any other payment card in the market today. This streamlined solution reduces the need to carry other documents and provides the cardholder with a secure and convenient method of payment.
Commenting on the Passport Card, R. B. Santosh Kumar, Country Manager – Sri Lanka and Maldives, Mastercard, said, "We are honoured to have presented the Passport Card to His Excellency the President. At Mastercard we are focused on providing our customers with innovative payment solutions and enhanced payment experiences. Hence we believe that by introducing a Passport Card with the Government of Maldives we will be reducing hassle and improving overall experiences. And by incorporating the payment method into such vital documentation it will help facilitate greater financial inclusion."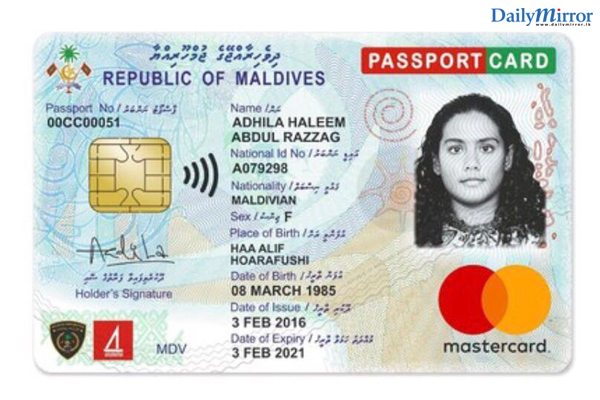 A specimen of the Mastercard Passport Card