---
Marina Foods (Pvt) Ltd, the biggest manufacturer of coconut oil in Sri Lanka, outlined its processes of producing safe and hygienic coconut oil, using state-of-the-art technology in compliance with internationally accepted quality standards to the participants, including school children, at the CHEMEX 4 exhibition and trade fair.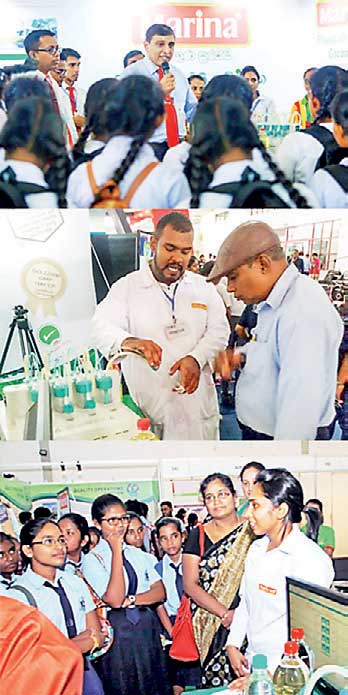 The three-day unique chemical educational event organized by the Institute of Chemistry was held at the Sri Lanka Exhibition and Convention Centre in Colombo recently.
Marina Foods (Pvt) Ltd is a subsidiary of NMK Group of Companies. Expressing his views, Manjula Narayana, Chairman - NMK Group of Companies, said:
"Certain companies which concentrate solely on making hefty profits without reaching out to help the community at large, through corporate responsibility initiatives, are propagating a myth that coconut oil contains cholesterol. It is important to bear in mind that coconut oil manufactured in a scientific manner using modern technology, which ensures high quality, goodness and hygienic standards in no way jeopardizes the health of the consumer. We have scientifically established this fact through international expert certification. For two decades, we have been battling against this myth which is being spread in society that coconut oil is laden with cholesterol.
"We have stood strong against these unfounded, baseless claims and pointed out that natural coconut oil manufactured in adherence with due processes in line with globally accepted standards does not contain any properties that are harmful to human health. As a result of our campaign aimed at reflecting the reality of the situation, many consumers have understood the truth, and now opt to use high quality and hygienic coconut oil with natural goodness. Marina Foods (Pvt) Ltd actively participated in the CHEMEX 4 with the core objective of further educating the people on this subject. The good health of the masses in the long-term is more important to us than short-term commercial profits. Therefore, as a company with a social responsibility, we will always accord top priority to our mission of educating the people and help to raise a healthy nation".
Marina is equipped with the largest coconut oil manufacturing plant in Sri Lanka and is certified by globally accepted and benchmarked product standard. In addition, the company also has under its wing a modern, international standard laboratory complex which has the capacity to monitor the quality, safety and hygienic standards of coconut oil. In addition, Marina is the only business enterprise in Sri Lanka equipped with the specialized Rancimat instrument, an ultra-modern technology which evaluates the effects of antioxidants in edible oils and food products.
Members of the public and school children attending the CHEMEX 4 Exhibition were educated on the importance of having such modern technology and the pragmatic role it plays in producing edible oil absolutely safe for human consumption.
When producing coconut oil in the traditional way, active properties found in coconut oil which are beneficial to human health are destroyed. It results in the accumulation of chemicals in coconut oil, which are deleterious to human health. But in the manufacture of Marina coconut oil products, none of these reactions adverse to human health occur.
The Marina sales team lucidly explained these key factors in the production process to the participants of the CHEMEX 4 Exhibition. In addition, the sales team also educated these participants on the quality, safety, hygienic standards and natural goodness of Marina in comparison to other coconut oil products in the market. They also drove home the point that Marina coconut oil can be reused many times in cooking without a change in colour or a drop in quality. At these sessions, consumers were able to grasp the real value and long-term health benefits of Marina coconut oil and clearly understand the importance of opting for the brand despite the availability of many coconut oil products in the marketplace.