---
A high-powered investment delegation led by Development Strategies and International Trade Minister Malik Samarawickrama will make a strong pitch this week for German investments to Sri Lanka.

The delegation will visit Frankfurt, Hamburg and Berlin and meet with senior German officials, as well as captains of German industry.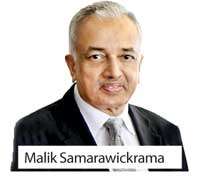 The Sri Lankan delegation will comprise senior officials involved in vital aspects of the economy, including Board of Investment (BOI) Director Mangala Yapa, Director General Duminda Ariyasinghe, Export Development Board (EDB) Chairperson Indira Malwatte as well as other senior officials of the Development Strategies and International Trade Ministry.
This delegation will also include representatives from leading Sri Lankan companies, which have an interest in Germany, as well as officials from the German Chamber of Industry and Commerce (AHK).

Germany is of considerable importance to Sri Lanka as it is the largest economy within the European Union and also a dynamo in the manufacturing sector, which is a focus sector for Sri Lanka. In addition, Germany is also a leader in the field of logistics, notably in Hamburg and software knowledge services, including state-of-the-art incubator services, which are centred in Berlin. This highly targeted mission will include investment forums, where top German and Sri Lankan companies can share experiences and presentations by the BOI and EDB will be conducted.

The private sector delegates will consist of Diesel and Motor Engineering PLC Chairman Ranjith Pandithage, Expolanka Holdings PLC Strategic Planning and Business Development Head Shiraz Immarudeen, Live Room (Pvt.) Ltd Director and Chief Technical Officer Sameera Nilupul, MAS Holdings (Pvt.) Ltd Chief Operating Officer Shirendra Lawrence, Colombo Dockyard PLC Chairman Dr. Toru Takehara, CHEC Port City Colombo (Pvt.) Ltd Chief Sales and Marketing Officer Liang Thow Ming and CHEC Port City Strategy and Business Development Head Thulci Aluwihare.

The German companies that have invested in Sri Lanka in the past include Kramski, a high-tech engineering company which recently celebrated 25 years in the country. Kramski produces components for many German and international brand names including Blum, Bosch, Delphi, Roche and Sumida. Germany has taken a strategic interest in investing in Sri Lanka as the government policy actively encourages private sector-led growth. This is reflected by the decision of the AHK to open a full-time office in Colombo in March 2018 in support of expanding investment and trade from Germany to Sri Lanka.

The forums are to be held in the chambers of commerce in Frankfurt, Hamburg and Berlin.