---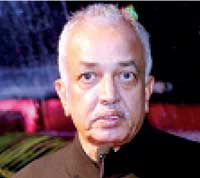 By Chandeepa Wettasinghe
Sri Lanka will have preferential trade access to markets with a total population of three billion within the next 12 months, which would motivate further foreign direct investments (FDIs) to the country, the Developmental Strategies and International Trade Minister said yesterday.

"By this time next year, we will have preferential access to over three billion people," Malik Samarawickrama said at the Sri Lanka-Japan Business Forum of the Sri Lanka-Japan and Japan-Sri Lanka Business Co-operation Committees, organised by the Ceylon Chamber of Commerce.
Sri Lanka's exports in relation to gross domestic product have been declining over the past two decades, while domestic services contribute the mammoth share to the economy. The government is planning on setting up several industrial zones to bridge the gap.

Samarawickrama noted that a number of measures to improve investments and trade have been implemented, including the proposals to set up the Agency for Development and the Agency for International Trade and the one-stop shop at the Board of Investment.

However, some view the setting up of multiple government agencies as a duplication of work, similar to the legislation related to the Strategic Development Projects and the Board of Investment.
Samarawickrama said that a national trade policy framework would be brought into create consistency in trade-related policies.

"We are confident that macroeconomic fundamentals will become more robust going forward," he said, in the backdrop of criticism levied by the International Monetary Fund (IMF) as to the lack of active macroeconomic policies.

The World Bank earlier this year named Sri Lanka as one of the most protected countries in the world and the US $ 1.5 billion IMF package includes clauses for trade liberalization, as increased import costs also reduce export competitiveness in today's context of global supply chains.

Samarawickrama added that the improvements in policies would be leveraged when negotiating Comprehensive Economic Partnerships with 'many countries', including Singapore, Japan and China.
"We're also confident that the EU's GSP Plus will be restored before the end of this year," he added, even though the process is expected to take at least a year, and the EU delegation has said that Sri Lanka's chances are not absolutely certain.

Samarawickrama went on to say that the technology pact with India, and the FTA with Pakistan will be given due consideration, while Washington had agreed to launch a five-year trade and investment programme with the US.

Samarawickrama invited Japan to get ahead of the competition and set up businesses in Sri Lanka—which is a geographical crossroad of the world—to cater to the preferential markets that will be opening up soon.