---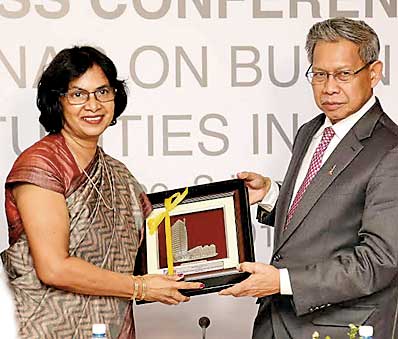 By Zahara Zuhair
With the anticipation of having a free trade agreement (FTA) with Sri Lanka within the next two years, if the negotiations go well between the two governments, Malaysian International Trade and Industry Minister Dato' Sri Mustafa expressed their readiness to be part of the ongoing Western Region Megapolis Project.

"I had a discussion with Malik Samarawickrama (Development Strategies and International Trade Minister) in the morning (4th) in Colombo. We discussed the possibility of having an FTA with Sri Lanka. I need to get an endorsement from my Cabinet before we can start negotiations. If it is agreed, the Sri Lankan and Malaysian governments will start negotiations," he said addressing a seminar followed by a media conference.

The minister, who is on a trade and investment mission in Sri Lanka accompanying 25 Malaysian companies, also said, "We want to invest, trade, enhance bilateral relationship with Sri Lanka and Malaysia. We are prepared to share our development experience and expertise. We have products and services to offer you. It is important to build economy ties. Malaysia likes to be part of the development journey of Sri Lanka."

He emphasised the importance of working together to do more for the benefit of the people of the two countries, further asserting that it is important to implement agreements making sure they produce results to enhance bilateral economy ties. Malaysia currently has 13 FTAs.

Commenting on the proposed monorail system in Colombo, he said, "We have been informed about a monorail in Colombo. A Malaysian company built its first monorail in Mumbai; it is already in operation. This same company has got two projects in Brazil in preparation for Olympics. We have expertise, if we get an opportunity of course this company is keen to do the development of monorail in Colombo."

According to the Ceylon Chamber of Commerce (CCC), in 2015, Sri Lanka's exports to Malaysia amounted to US $ 35 million, while imports amounted to US $ 512 million. The main imports from Malaysia include animals, vegetables, machinery and mechanical appliance, while the main exports to Malaysia are noted as rubber products, apparel, coffee, tea and spices.

When inquired about readdressing the trade balance, which indicates Malaysia having more benefits, the minister said, "There can't be perfect balance in relationship; we want to buy products which are more demand in Malaysia. If Sri Lanka can supply the demand, of course we will buy them. Sri Lankan companies could do more to promote their products in Malaysia."

He noted that Sri Lankan exports have more potential to do trade in processed food in Malaysia. He said 26 percent of Sri Lanka's exports to Malaysia come from textile and apparel followed by processed food, which is 11 percent, and it has more space to grow.

Dialog Axiata PLC is the biggest foreign investor in Sri Lanka, which is about US $ 2 billion. But unfortunately, not many Sri Lankan companies operate in Malaysia. The biggest investment from Sri Lanka in Malaysia is palm oil, the Malaysian minister noted. He invited Sri Lankan companies to do more business in Malaysia.

He said last year, 51,337 Sri Lankans had visited Malaysia and Sri Lanka had 22,000 visitors from Malaysia. He also added that 60 flights a week connect Colombo - Kuala Lumpur.
The last visit of a high-level Malaysian delegate to Sri Lanka was Malaysian Prime Minister Datuk Seri Razak in 2013 to participate in the Commonwealth Heads of Government Meeting (CHOGM) held
in Colombo.