---

His Excellency President Maithripala Sirisena addressing delegates at the International Pepper Conference in Kandy
Maggi recently partnered the 45th International Pepper Conference as Silver Sponsor, as part of its commitment to use popular Sri Lankan spices in its products to naturally enhance flavour, and encourage the use of spices in home cooking. Locally sourced pepper is one of the many spices that add delicious flavour to Maggi and delivers its much loved spicy taste. The commitment is part of Maggi's "Simply Good" initiative to offer consumers tastier and more nutritious choices, using ingredients typically found in the kitchen.
The global event was held in the island for the first time in association with the Spice Council of Sri Lanka, and addressed topics of interest to the world pepper economy, relating to policy makers, traders, manufacturers, researchers and farmers. It was attended by key stakeholders locally and from across the world, including Sri Lankan President, His Excellency Maithripala Sirisena, and other high ranking officials.
Said Priyadarshinie Karunaratne, Vice President - Food at Nestlé: "In response to local consumer preference for more natural and familiar ingredients, such as those typically found in their kitchen cupboards, we are using spices, vegetables and herbs to naturally enhance flavour in our products. We want to inspire and offer tastier and more nutritious choices, and encourage home cooking. We strongly believe goodness starts with homemade food and everyone should be able to enjoy it every day, with a little help from Maggi. We already have a good portfolio of products in Sri Lanka - ranging from coconut milk powder to noodles and seasoning - to encourage and support homemade food. Our range is now strengthened with the goodness of local spices."
From left to right (standing): Nuwan Rathnayaka, Nestlé Brand Manager – Food; Madam W. Srima Shantini Koongahage; Priyadarshinie Karunaratne, Nestlé Vice President – Food; and Bandula Egodage, Nestlé Vice President – Corporate Affairs and Communications. (Sitting): Hon. Daya Gamage, Minister of Primary Industries at the Maggi stall
Spices are popular ingredients in Sri Lankan meals owing to their flavour and aroma, and also their implied health benefits as a food high in anti-oxidants. Maggi products contain a mix of spices like black pepper, chilli, garlic, coriander, cardamom, turmeric, cumin, nutmeg, fenugreek and aniseed where relevant. It is pepper however that is popularly referred to as "King of Spices"; with a distinct flavour loved the world over and indispensable in the Sri Lankan kitchen.
Interestingly, peppercorn comes from a plant native to Sri Lanka and South India, and Ceylon black pepper has a stronger taste and aroma than black pepper anywhere else in the world. Celebrated for their very local flavours and products in Sri Lanka, many of Maggi's products contain Ceylon black pepper; including its Chicken Flavoured Noodles, Daiya Chicken Noodles, Spicy Blast Noodles and Soup Cubes.
Said Shivani Hegde, Managing Director at Nestlé: "The world of food is changing. On the one hand, a new generation is reinventing the basics; playing with family recipes and exploring new tastes. On the other, cooking at home is becoming increasingly challenging to fit into daily life. We want to be a brand that responds to these new needs by showing consumers that homemade food can be easy, creative and tasty. At Nestlé, we believe our purpose as a company is enhancing quality of life and contributing to a healthier future. Our Maggi brand brings this purpose to life by continuing to inspire and help people cook good food with fresh ingredients."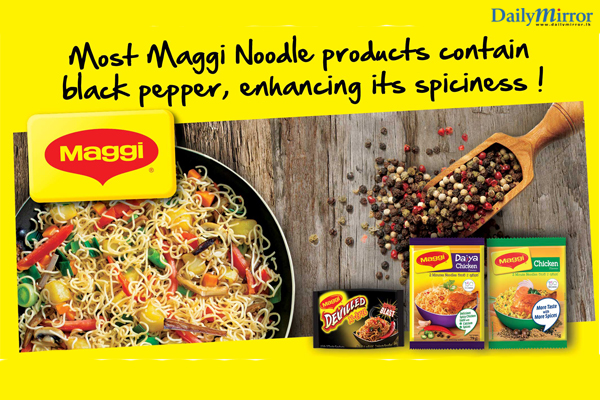 Most Maggi noodle products contain pepper