---
Integrated infrastructure and engineering solutions provider MTD Walkers PLC yesterday announced its entry to the Maldives.
The company said Walkers CML International (Private) Limited, a subsidiary of MTD Walkers PLC, was incorporated in the Maldives to meet the growing demand of infrastructure development activities in the country.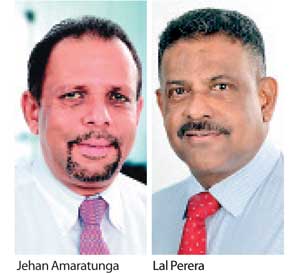 The group also hopes to work with local partners and government institutions to assist in achieving the development objectives of the Government of Maldives.
"We hope to capitalize on emerging engineering opportunities available in the Maldives in the areas of civil engineering, mechanical engineering, electrical engineering, building services and marine engineering," said MTD Walkers PLC Head of Group Business Development Lal Perera.
He further explained that the Walkers CML group is in a strong position to contribute to the local construction industry in the Maldives by introducing international best practices and construction technology to the local industry.
"Setting up operations in the Maldives forms part of our strategy to expand regionally," said MTD Walkers PLC Executive Deputy Chairman Jehan Amaratunga, explaining that the Walkers CML group will initially leverage on its civil and mechanical engineering expertise and introduce its full range of services in the coming years.
MTD Walkers PLC is a pioneer in the engineering and infrastructure industry with a well-established track record in multidisciplinary engineering activities both locally and overseas. In operation since 1854, they are the seventh oldest company in Sri Lanka and the 'Walkers CML' brand has acquired an iconic presence associated with strength and stability.
Today, MTD Walkers PLC possesses a robust portfolio of infrastructure-related businesses including civil engineering, mechanical engineering, electrical engineering, pile construction, power generation, marine engineering and real estate.