---
The national LPG (liquid petroleum gas) company marks 2015 a record year posting gross profits of over Rs.6 billion with significant increases in volumes (22 percent) and market growth (acquiring a total 485,548 new connections).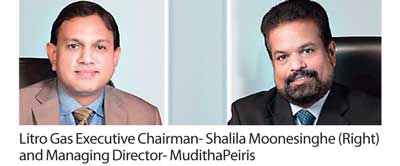 The market leader has grown its reach, to make LPG available in all areas of the island through a network of over 5,000 dealers.

"It is of utmost importance that Litro Gas be available in all rural areas," Chairman, Shalila Moonesinghe said. "In doing so Litro Gas has maintained the highest safety standards ensuring that quality products are delivered to all our valued customers."

In a joint communiqué, Chairman and Muditha Peiris, Managing Director of Litro Gas Lanka Ltd said "With one of the largest price reductions seen in any given year, Litro Gas managed to grow its market by creating over 485,000 new connections. This has led us to a record year in 2015 with gross profits of over Rs.6 billion."

Highest ever volumes were also seen during 2015 with the company recording volumes of over 209,000 metric tons. This amounts to another record in terms of volume growth of over 22 percent. "We continue to invest in our people to ensure that safety is maintained throughout our value chain" Peiris said. "We have upgraded our cylinder refurbishment facilities in order to deliver a better product." Peiris mentioned referring to the company's new investments in cylinder maintenance and re-painting. "With these improvements Litro Gas will improve its quality and standards".

Litro Gas continues to focus on its staff ensuring there is continuous development and growth within the organization. 2015 has seen many staff being promoted within the organization recognizing their exceptional skills

Litro Gas has a safety record that is second to none. "Safety is our prime concern as our business revolves around liquid petroleum gas (LPG). When handled with due care LPG is a versatile fuel which is easily transportable to both city and village alike," Peiris said.

Moonesinghe said, "Prime importance has been placed on good governance and controls". He elaborated that the new board was appointed in mid-February 2015 with a clear mandate to ensure that Good governance and procedures were followed, in order to ensure that Litro Gas would be a benefit to the country as a role model corporate. Subsequent to this the Chairman and Managing Director took office on the 10th of February 2015. Plans are already underway on the development of the Litro Gas Terminal in the port of Hambantota to install a filling plant

in 2016. In keeping with the company's philosophy of being the "trusted energy partner of first choice", Litro Gas is looking to diversify its brand into other related areas of the petrochemical business. In this context Litro Gas is making plans to enter the retail fuels market in Sri Lanka. Litro Gas plans to build, own and operate fuel stations Island wide under the "Litro Fuels" brand. Both the Chairman and the Managing Director feel that the time is right for Litro Gas to branch in to these new streams of business and are creating the necessary environment for this to
take place.