---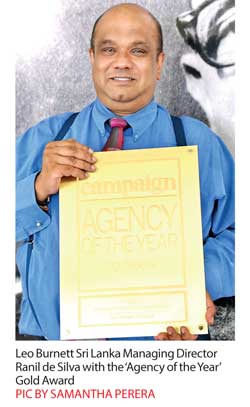 New initiatives undertaken over the past year by Leo Burnett Sri Lanka, the local arm of the global advertising giant Leo Burnett, helped it win the coveted 'Agency of the Year' Gold Award at the Campaign Asia Agency of the Year Awards for the third consecutive year, the head of the local chapter said.

"The day before night, in Mumbai, we won the Gold award for Campaign Asia Agency of the Year for rest of South Asia. That is all South Asian countries except India. This award is not purely about creativity. This is about overall performance. That is important, and 2017 especially so because it's a hat trick. We got our third consecutive gold," Leo Burnett Sri Lanka Managing Director Ranil de Silva said.

In addition to creativity of an ad agency, the Agency of the Year award looks at the financial performance, professional development programmes, corporate social responsibility and the contribution to national progress by the award winner, de Silva outlined.
He said that in addition to the existing Leo Burnett Sri Lanka initiatives which contributed to these aspects, new initiatives taken this year contributed towards clinching the award. These initiatives included partnering with the Galle Literary Festival to showcase the CSR project Leo Art which recognizes creative individuals, the Leo Fundamentals professional development programme, the Playshop employee reward initiative, and the 'Rectangular Table' project where the agency regularly invites top professionals to share knowledge with Leo Burnett clients to help them make better business decisions.

de Silva is hoping to convert the hat-trick into a four in a row.

"I hope we will continue to win it, and that's the challenge that we have because when we're at the top we have to fight to be at the top," he said.

He added that his direction for Leo Burnett is not to be just another ad agency, but to uplift the overall advertising and communication industry in Sri Lanka via talent development.