---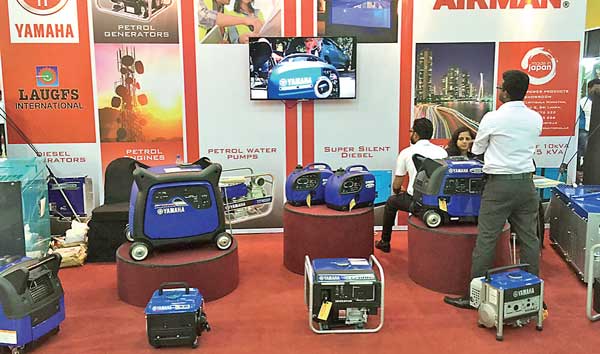 Laugfs International Pvt Ltd recently took part in Kedella 2016, as the ideal partner for energy needs of the domestic category, showcasing a range of high quality Yamaha and Airman generators. Kedella, which is an annual event organized by Asia Exhibitions, was held at the BMICH, presenting a range of solutions for households.

"Kedella 2016 attracts a large crowd, especially from the domestic household sector, who are in search for reliable sources for their domestic needs. We are extremely pleased to be able to represent two of the largest global brand names – Yamaha and Airman - with a range of reliable and reputed products," commented Laugfs International Director/CEO, Wasantha De Silva. "Our super silent generator products under the brand name Yamaha have become the most commanded generator for households, with increasing demand and inquiries from customers," he further stated highlighting the trends in the household sector for generators.

A range of products were showcased by Laugfs International at the Kedella exhibition this year, including 0.65KVA to 5KVA Yamaha Petrol generators, 6KVA to 33KVA sound proof Diesel generators, Inverter generators from 1KVA to 6.3KVA, multi-purpose engines from 4hp to 11hp, as well as engine-driven water pumps of 1 to 3 inches.It further represented the Airman brand, with 10KVA to 800KVA super silent and 10KVA to 125KVA ultra super silent Japanese diesel generators, engine-driven and motor-driven Japanese air compressors and scissors lifts that goes up to 10 meters.

Laugfs International is the authorized agent for globally renowned Yamaha and Airman power products. With cutting-edge Japanese technology, these products have earned a reputation for quality, consistency and reliability across the world. With a strong focus on providing customers superior products and services for their ultimate energy requirements, it is set to become Sri Lanka's premier solutions provider for domestic and industrial power requirements.

Laugfs International is the trading arm of Laugfs Holdings, one of the largest diversified business conglomerates and a trusted name in Sri Lanka. Founded in 1995, Laugfs today has expanded across 20 industries in Sri Lanka and overseas, establishing a strong presence as a leader and pioneer in the power and energy, retail, industrial, services, leisure, logistics and real estate sectors. With over 4,000 employees and an annual turnover exceeding Rs.28 billion, Laugfs continues to expand and empower millions as a trusted Sri Lankan brand.