---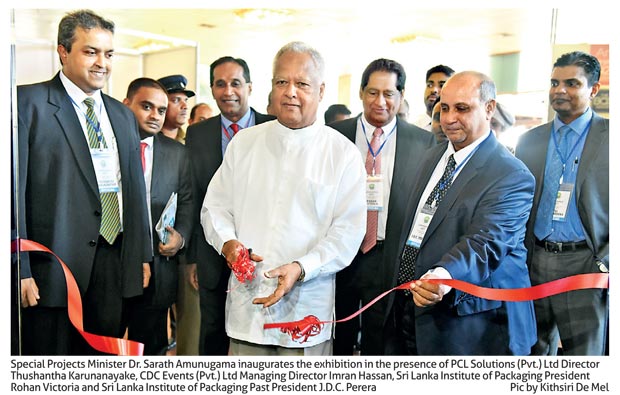 By Harshana Sellahewa
Lankapak 2017, Sri Lanka's only dedicated packaging exhibition, organised by the Sri Lanka Institute of Packaging, set to be a three-day event, was launched yesterday at the BMICH, with the exhibitors launching new products and services to the packaging industry.

Sri Lanka Institute of Packaging, established in 1975, is recognized as one of the oldest packaging industry associations in South and Southeast Asia, having a proven track record of over four decades in promoting and advancing the printing and packaging industry.

The three-day exhibition is set to be a meeting point for all industry professionals to educate their potential buyers on the modern printing and packaging techniques, which are required for the sustainability and value addition to all kinds of products that move into the market.

"We have the privilege of providing the Lankapak platform for several packaging companies each year. Over the last few years, it has become increasingly clear that strategies are being developed and executed based on global trends, as companies search for profitable growth while looking to meet the evolving needs of the market and create value for their stakeholders," stated Sri Lanka Institute of Packaging President Rohan Victoria.
Special Projects Minister Dr. Sarath Amunugama speaking at the opening ceremony said, "Like most developing countries we should try to improve on all fronts. But we should particularly try to improve in the manufacturing sector. The services sector I think, together with the tourism, banking and financial sectors, will improve anyway. Agriculture might decline but the key question is how do we expand our manufacturing sector?"

"During the last few years we have rethought this issue because we have to leverage several factors. First is our strategic position in South Asia. If we are a manufacturing hub, I think it would be very easy for us to go into the markets in the area because the markets have been transformed. Just a few kilometres away is the growing market of India. We have very close ties with China and in the next couple of years there will be large-scale investments by the Chinese in the manufacturing sector.
We know that with the Hambantota harbour there will be an export development zone and we hope to have at least 300 new industries, particularly heavy industries, to be located there; so the future is good for the packaging industry," he added.

Lankapak 2017 has been endorsed and supported by the Industry and Commerce Ministry along with the support of the World Packaging Organisation and Asia Packaging Federation. This year's Diamond sponsor for the exhibition is PCL Solutions.