---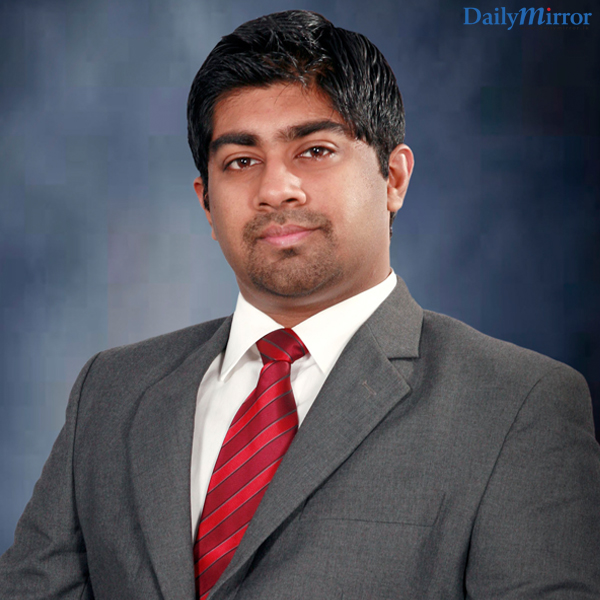 Mr.Lakshan Madurasinghe - President & Chairman of the National Board of Directors - Habitat for Humanity Sri Lanka
On International Volunteer Day, which is celebrated universally on 5th December, to foster a spirit of volunteerism amongst individuals and organizations a like, Habitat for Humanity Sri Lanka (HFHSL) would like to highlight the story of its current Board Chairman and President – Lakshan Madurasinghe. Lakshan's unique journey, started with him volunteering at a Habitat Build event, and thereafter led to over a decade long partnership with HFHSL. That single experience fueled a deep love for volunteering within him, that he has since then shared with countless colleagues, friends, donors and communities. Today, a key member of HFHSL's leadership team, Lakshan not only continues to volunteer whilst encouraging hundreds of others to do so as well, he has applied his corporate, PR and management expertise to shape the vision and mission of Habitat for Humanity Sri Lanka, and aid its ongoing commitment to providing shelter and homes to hundreds of families in need.
Habitat builds homes not houses: Since Habitat for Humanity was launched in Sri Lanka 23 years ago, the organization has enabled 24,600 families to achieve strength, stability and self-reliance and rebuild better lives. A proper home is the strong foundation on which families and communities thrive. Better, affordable living conditions lead to improved health and stronger childhood development, well-being of children and give families the ability and financial flexibility to make forward-looking choices. Recognizing that donors may not always understand the immense value of building homes, or even consider building a house to be a feasible or practical form of charity, Mr. Madurasinghe said: "A typical Habitat home will be a 550 sq.ft lockable home with two bedrooms, a living room, a kitchen and a toilet, and constructing a home of this nature would generally cost approximately One Million Rupees. Having worked in Sri Lanka for over 23 years, wherever we work, we witness tangible evidence that strong and stable homes help build strong and stable communities".
A journey spanning over a decade:Commenting on how his journey started and how he embraced HFHSL's mission, Mr. Madurasinghe said: "My journey with Habitat for Humanity started in 2005, while I was serving as the Head of Public Affairs and Communication for Coca-Cola Beverages Sri Lanka Ltd. As part of my responsibilities, I also led the company's strategic CSR efforts and community engagement initiatives. Following the aftermath of the Tsunami, we partnered with Habitat for Humanity in 2005 to rebuild homes in Galle. Our company volunteers were able to actively engage with homeowners and help them build their new homes and regain a sense of normalcy in their lives in the aftermath of the disaster. I was deeply moved by the warmth, hospitality and kindness that was extended to us by those homeowners. They had lost everything, and were so grateful and moved that we had come all the way, to help them rebuild their lives." Having understood the impact of volunteering instead of simply opting to donate funds, Mr. Madurasinghe explained: "At HFHSL, you get to do more than just donate money to a cause. The beauty of volunteering with Habitat is that you get to be a part of changing people's lives." HFHSL provides families with a hand-up not a hand-out; so that Habitat homeowners are able to achieve the strength, stability and self-reliance they need to build better lives for themselves and their families.
After volunteering and engaging in HFHSL's fundraising activities for many years, Lakshan was invited to serve on the National Board of Directors of Habitat for Humanity Sri Lanka in 2009. In 2012, he was selected as the Vice-President of the Board and in 2015 he was appointed as the President and Chairman of the National Board of Directors. His decade long journey with Habitat for Humanity Sri Lanka has made him a champion of volunteering, who is passionate about expanding HFHSL's dynamic volunteer engagement initiatives and programmes, whilst increasing awareness about the manifold benefits of volunteering.
Volunteering beyond borders: In the hopes of fostering volunteerism internationally, Habitat for Humanity conducts a unique volunteer program known as 'Global Village' (GV), which encourages volunteers from around the world, to travel to Sri Lanka on a cultural exchange for a period of 5-7 days and provide unskilled labour to build homes for communities in need. These volunteers cover their own travel and accommodation costs, and also donate towards Habitat for Humanity's housing projects. Commenting on this Mr. Madurasinghe said: "Our GV program is a rewarding experience not only for the volunteers themselves but also for our beneficiary families and our staff. This year alone we've had GV teams from Japan, China, Hong Kong, Korea, Netherlands, Canada, Abu Dhabi, Saudi Arabia, Singapore and the U.S travelling to locations such as Kalutara, Batticaloa, Muthurajawela, Aranayake, Yatiyantota, Deraniyagala and Pussellawa to help communities in need of a safe place to call home. It is remarkable to see how touched our homeowners are when people from all over the world, travel all the way to Sri Lanka, just to be with them and help them build their homes."
Volunteering as a team: Throughout his time at HFHSL Lakshan has always highlighted the exceptional team building skills and bonds that Corporates as well as school students can forge when they spend a day working together at a Habitat build. Commenting on this further he said: "Many Corporates opt to invest in high-end training and out-bound team building exercises, however we always urge them to consider sending their entire team out on a 'Corporate Team Build' where they can work together with a common goal in mind. You really do bond exceptionally well as a team, when you have to put all of your differences aside, and focus on delivering on an important need – a home that will help a vulnerable family and generations to come. Something powerful happens when we stand shoulder to shoulder to work toward a common goal. Every helping hand, every donation, every voice makes a difference, and the work can be transformative, not just for the family who will reside in a Habitat home, but for everyone involved. It's a great way to give back to communities and do something truly meaningful."
Engaging with the next generation of young leaders: Each year, on International Volunteer Day, Habitat for Humanity launches the Habitat Young Leaders Build (HYLB) which is an Asia-Pacific initiative that engages young people, and encourages them to volunteer and advocate for decent housing. Commenting on this, Mr. Madurasinghe said: "A very important part of our International Volunteer Day celebrations, is launching the Habitat Young Leaders Build. In Sri Lanka in particular, we really do want to strengthen our youth engagement and have more youth aged 16-35 be a part of our volunteer initiatives. Going forward we also hope to strengthen our public-sector partnerships and engage with more youth-based NGOs and organizations to bolster our youth volunteer drive."The HYLB campaign following its launch on the 5th of December culminates on the 21st April 2018.
Every gift makes a difference: Another key segment that HFHSL will be working on moving forward is to actively engage the Sri Lankan Diaspora who may be keen to give back to people in need in their home country, by contributing funds for housing projects or by volunteering with Habitat. Commenting on the support needed by Habitat to continue its work in the country, Mr. Madurasinghe stated: "Our work extends far beyond providing shelter and building homes; the work we do gives people much-needed security, and this has an immense ripple effect on society and the economy. We welcome volunteers and donors regardless of their age, background, career, whether they are individual donors or are a part of an organization. Irrespective of whether you live in Sri Lanka or abroad, regardless of how much and what you have to give; we welcome you to join hands with Habitat for Humanity Sri Lanka and become a part of a story that is reshaping our nation, one Habitat home at a time. Through shelter, we empower and have the immense pleasure knowing that we would be causing a positive generational impact in our nation."
To find out more about volunteering opportunities, kindly contact info@hfhsl.org or visit www.habitatsrilanka.org