---

From left: Deputy Chairman Dinesh Saparamadu, Chairman Koga Michio, Japanese Ambassador to Sri Lanka Kenichi Suganuma, Skills Development and Vocational Training Ministry Secretary P. Ranepura and Head of Academic Affairs Dr. Manjula Sandirigama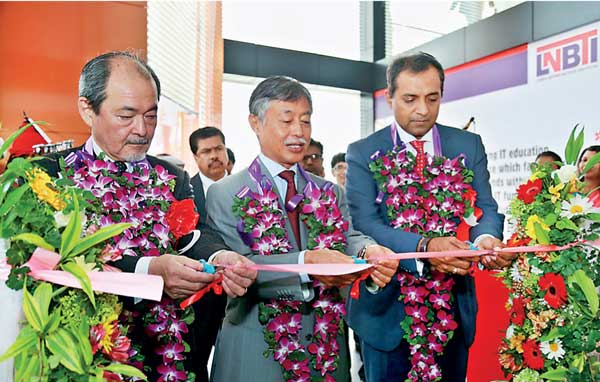 Japanese Ambassador to Sri Lanka Kenichi Suganuma cutting the ribbon flanked by Chairman Koga Michio (left) and Deputy Chairman Dinesh Saparamadu
With the promise of transforming the level of education in Sri Lanka, Lanka Nippon BizTech Institute (LNBTI) - a Japanese-based technology university, opened its doors in Maharagama to an array of educational opportunities with an ambition to offer qualifications of the highest quality.
The institute was declared open under the auspices of Japanese Ambassador Kenichi Suganuma, amidst a large gathering of dignitaries and well-wishers.

The LNBTI is a partnership between two leading IT companies, which have international recognition and close ties with Japan namely – Metatechno Japan, a company that specializes in developing embedded software for electronics and computer device manufacturers around the world, and hSenid International, an application and service provider for the telecom, financial and enterprise markets.
All courses at LNBTI are designed to fine-tune students through a specialized IT-related curriculum in order to ensure that its graduates are well qualified and highly capable of working in any related job in Japan or any other part of the world. The LNBTI programme, which includes software engineering, information and communication technology and the Japanese language, takes three years to complete after which students graduate with a diploma certificate along with the possibility of continuing it up to a degree.
Along with their usual course work, students must sit for a Japanese language proficiency test and a fundamental information technology engineer exam in order to complete the course. This training programme is focused on improving four language skills namely reading, writing, speaking, listening and it also hopes to provide thorough knowledge on Japanese used in the corporate sector. This programme also targets the Japanese Language Proficiency Test – N2 level, which is an added qualification when one seeks employment in Japan or enters into a Japanese university in order to pursue higher studies.

Speaking at the event, LNBTI Chairman Koga Michio said, "For the past few decades, IT has been one of the more favoured professional qualifications in Sri Lanka and across the world. Having realized the potential and capability of Sri Lankan students especially in the field of ICT, we, at LNBTI, facilitated this possibility in order to give these students an opportunity to learn ICT skills according to necessary Japanese systems and cultural norms."

One of the main advantages of studying at the LNBTI is the potential of securing immediate employment opportunities in Sri Lanka, Japan and other countries in the region. hSenid International too has offered to provide several internship opportunities for the LNBTI students during their final year of study. This is possible due to the highly regulated Japanese quality business culture courses and its Higher IT curriculum that has been formulated to supply industry professionals to the Japanese and Sri Lankan market.

LNBTI Deputy Chairman Dinesh Saparamadu further added, "After graduation, our students will be able to utilize the advanced ICT knowledge in practical industry fields and gain entry into new markets and actively lead the industry. Students will also be able to make an active contribution to the Sri Lankan ICT industry by expanding ICT-related contracts from Japan and expect an economic growth between the two countries."