---
Lanka Market Research Bureau (Pvt.) Limited (LMRB) was selected as the Financial Services Research Firm of the Year by Corporate Livewire 2016 Finance Awards UK, the leading global awards programme celebrating growth and strong performance in the finance industry. Through an extensive judging process, the awards recognize individuals, teams and businesses that have demonstrated success and innovation over the last year.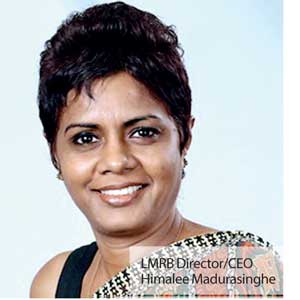 Due to the ever expanding financial services industry and tough competition, this time LiveWire decided to dedicate an entire awards programme to recognize those most deserving and create more categories for all those who excel in performance within the industry. Winners from the Asia and Australasia region came from Singapore, South Korea, Sri Lanka, Taiwan and Vietnam.
Receiving the award on behalf of LMRB, CEO Himalee Madurasinghe said that over the years despite the entry of new players, LMRB's continued success as the leading provider of research services in Sri Lanka can be attributed to the quality of its staff and systems and the high level of integrity that the company has reflected in conducting its business.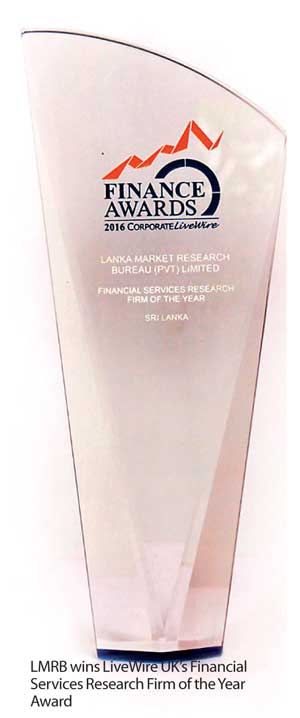 LMRB has made an immense contribution to its clients' task of building brands by providing them with guidance on setting their strategic agendas, shaping their communications, developing new products and services and optimising their trade and media spend. In the financial sector LMRB works with many of the leading banking, financial services and insurance companies in Sri Lanka, conducting research on customer satisfaction, usage and attitude, brand equity, brand health, communication evaluations, concept tests, customer profiling, mystery customer, employee engagement and market estimation. As a pioneer in its field in Sri Lanka, LMRB always makes a concerted effort to obtain and adapt the latest market-research techniques appropriate to local conditions.
In 2015, LMRB was awarded 'Asia Best Employer Brand' by the Employer Branding Institute, endorsed by Asian Confederation of Business. LMRB established in 1981 is Sri Lanka's first independent, international market research agency and part of the Kantar Group UK, the information, insight and consultancy wing of WPP, one of the world's largest communications-services groups.