---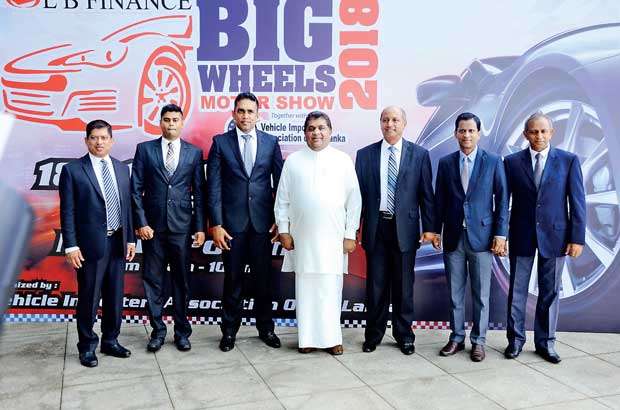 From left: VIASL Immediate Past President Dinesh Senanayeke, VIASL Assistant Secretary Arosha Rodrigo, VIASL Treasurer Prasad Priyanga, Finance and Mass Media Deputy Minister Lasantha Alagiyawanna,VIASL President Ranjan Peiris, LB Finance PLC Executive Director Niroshan Udage and Sterling Automobiles (Pvt.) Ltd General Manager Renuka Wijesiriwardena
Pic by Waruna Wanniarachchi
By Harshana Sellahewa
The LB Big Wheels Motor Show 2018, organised by the Vehicle Importers Association of Sri Lanka (VIASL) and powered by LB Finance, was officially opened to the public yesterday, at the Nelum Pokuna Mahinda Rajapaksa Theatre.

The inaugural LB Big Wheels Motor Show is a first-of-its-kind event, focusing only on providing superior quality vehicles from leading manufacturers around the globe.
LB Big Wheels Motor Show 2018 was officially opened to the public by Finance and Mass Media Deputy Minister Lasantha Alagiyawanna, and the exhibition will continue till May 20, from 10.00 a.m. to 10.00 p.m.
LB Finance PLC Managing Director Sumith Adhihetty, Sterling Automobiles (Pvt.) Ltd Chairman C. Molligoda, VIASL President Ranjan Peiris and board members of the VIASL were also present to grace the event launch.

"This is a momentous occasion for the premier motor vehicle association in Sri Lanka. Together with our title sponsor LB Finance, we are able to assist prospective buyers to purchase their dream vehicle by taking advantage of the special offers and deals available at the show," stated VIASL President
Ranjan Peiris.

"We invite all vehicle enthusiasts to make use of this opportunity and realise that some dreams are always possible and we have provided the most appropriate platform for everyone aspiring to accomplish their dreams," he added.

LB Finance will be providing a plethora of special offers and deals that are tailor-made for this event, equipped with special rates below their current
market rates.

The motor show showcases a diverse selection of high-end automobiles, ranging from small cars to SUVs of all sizes, luxury sedans and even super-cars. Housing over 35 stalls with over 200 brand new and reconditioned vehicles including hybrid and electric variations, leading makes and models from Europe, Japan, Thailand and Australia are present at the event. A broad selection of some of the finest classic cars in the island that always steal the spotlight within car enthusiasts are also available.