---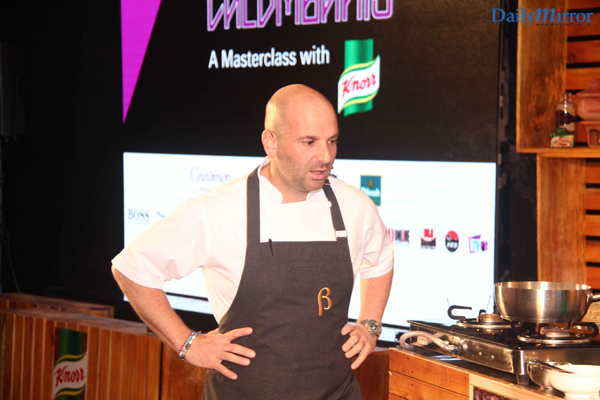 The excitement at "Cinnamon Life Presents George Calombaris, a Masterclass with Knorr"was at its zenith as lucky foodies thronged to see the celebrity chef and taste his mouth-watering food. While whipping up pillowy-soft doughnuts and kneading crumbly feta into disc-shaped roti, Calombaris' palpable enthusiasm and energy was infectious and spilled over into the audience who immediately warmed up to the popular chef.
For many of Colombo's foodies this was a rare opportunity tointeract with the MasterChef Australia Judge and celebrity restaurateur, who has built a firm culinary following internationally. The telegenic chef chattedand jokedwithall at the class, pausing for selfies and winning the hearts of those who attended.
"He was down to earth, funny and an incredible food instructor! This was hands down one of the most memorable food experiences in Colombo!"enthused a thrilled Tulsi Liyanage who attended. "I loved that he came by to our seats,personally speaking to all of us! I never dreamed I'd get to see him in real life in Colombo."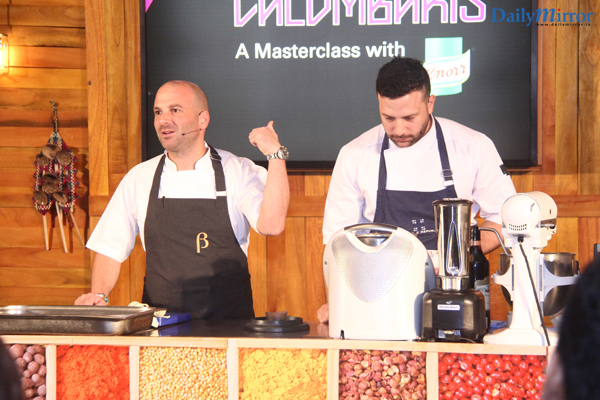 Calombaris blithely darted around the hall, playfully bantering with the audience and dishing out exclusive tips and tricks behind his successful food empire. As the aroma of delectable food filled the hall, an absorbedaudience began toeagerly question Calombaris about all things food-related and his thoughts on Sri Lanka.
The celebrity chef, restaurateur and 'MasterChef Australia' judge, who was recently in Sri Lanka, conducted an exclusive Masterclass in association with Knorr and presented by Cinnamon Life. The Masterclass was sold out weeks ahead and wasfilled to the brim with culinary enthusiasts eager to learn fromthe celebrity chef.
For Jehan Aloysius, a longstanding fan of Master chef Australia and amateur cook, meeting Calombaris was definitely a highlight. "I really enjoyed being a part of the Masterclass and was excited I had a chance to talk to George about my cooking. I was glad to get a few tips from him to add some excitement to the food I cook at home and I'm grateful that Knorr was able to facilitate us. It's wonderful to see a MasterChef here this year as well –Ihope Knorr continues to hold more of these events because people are excited about different styles of cooking!"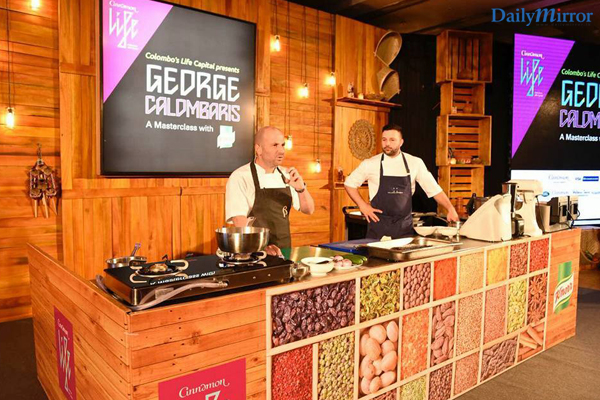 The day's delectable menu took on contemporary and classic Greek flavours and were an example of how simple ingredients can result in a heady taste explosion. Participants were taught to make salt and vinegar Greek donuts (a twist from the sweet donuts) paired with a flavour-packed tea tarama. A second dish fused local produce, serving raw local fish with fava, caper leavesand pickled onions with feta roti on the side. The final dish was dessert – caramelized yoghurt and honey comb topped with local fruits such as pineapple and creamy, raw cashew.
Calombaris, Alex Xinis and Sri Lanka-born Shehan Setunga, who both work with Calombaris in Australia, took on the menu with aplomb, whipping up individual tasting plates for every single attendee.
A proponent of culinary expertise and chefmanship and celebrated international food brand,Knorr partnered with Cinnamon Life as the associate sponsor for "Cinnamon Life presents George Calombaris in Colombo". The flagship food brand for Unilever has partnered with over 600 chefs around the world to craft Knorr products to varying global palates and is committed to steer Sri Lanka's culinary landscape to world class standards. Last year, Knorr partnered with Cinnamon Hotels & Resorts to host renowned Chef Marco Pierre White, taking Colombo's culinary enthusiasts on a memorable gastronomic adventure.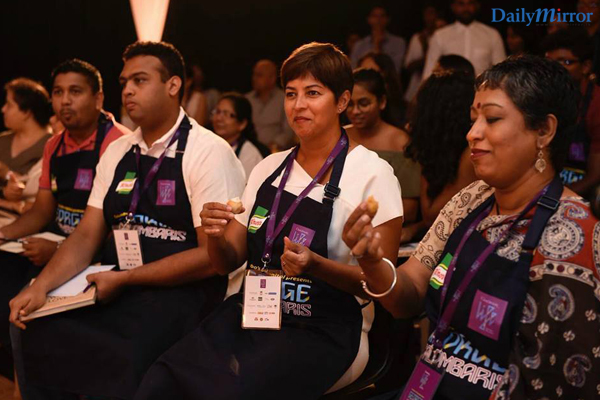 Calombaris, who was here on his first visit to Sri Lanka,has vowed to return for more.The celebrity chef wasenthusiastic about the abundance of fresh produce and seafood Sri Lanka has to offer and spoke animatedly about his experiences trying out delicacies such as aasmi and halapain Sri Lanka's rural villages.
"You guys have got a really incredible country! You should cherish it and tell the world about it because it's incredible. I'm going to be telling all my friends about Sri Lanka,"he smiled.
To learn more about the Knorr Masterclass, please visit the Knorr Sri Lanka Facebook page.