---
Corporate leader Kimarli Fernando has been appointed as Chairperson of the Sri Lanka Tourism Development Authority (SLTDA), Sri Lanka Tourism Promotion Bureau (SLTPB) and Sri Lanka Convention Bureau (SLCB).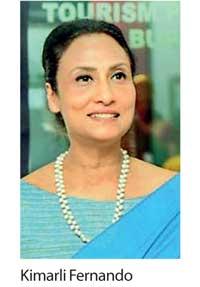 She currently serves as a Director of Delmege Forsyth Limited, Vallibel One PLC and Richard Pieris Distributors Limited.
Previously, she was Acting Chairperson of LB Finance PLC, Director of NDB and has also held senior positions at Pan Asia Banking Corporation PLC, Standard Chartered Bank, Sri Lanka and Deutsche Bank AG, Sri Lanka and in Germany.

She holds an LLB (Hons.) from the London School of Economics and Political Science, London, UK, is a Barrister-at-Law, Lincoln's Inn, UK (1987) and an Attorney-at-Law, Sri Lanka. She met the tourism office staff yesterday.