---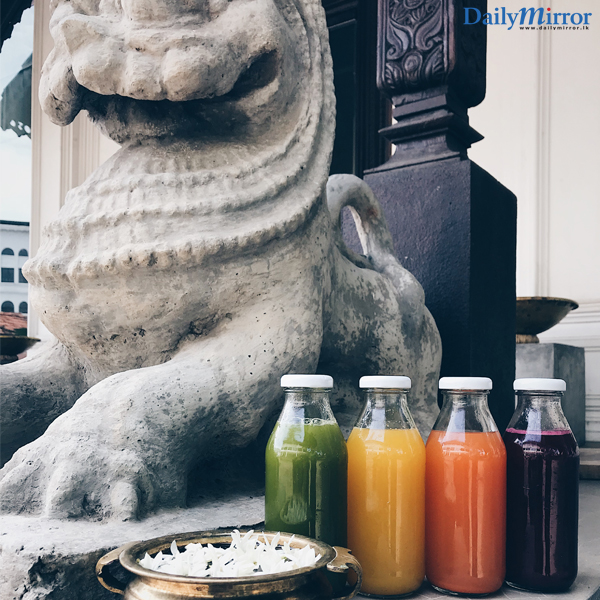 It seems that fruits and vegetables of the same family are fighting for their five seconds of fame. One day it's kale and the next it's dragon fruit. But it feels impossible to cram all these super foods into our hectic daily schedules.
That's the beauty of juicing says Kishani Gunewardena, the founder of the Kemara Life Spa and Wellness Centre, and campaigner for toxin-free, clean living. Juicing is a method of combining plant based foods into a nutritionally complete diet that will help your body rid itself of toxins.
Built on a toxin-free promise, the Kemara collection of beauty products, antidotes, cleaning agents and heavenly treatments capitalise on Kishani's own, certified organic, hand-distilled, pure essential oils.
The next big offering for her fans of clean living is the juice detox. A baby step towards what Kishani hopes will be a complete culinary experience at Kemara.
For Sri Lankans who are used to a three-meals-a-day diet, a liquid detox might seem daunting. Which is why Kemara invites you to a one-day guided trial. Simply take a me day-off and meet up with Kishani who will set you up with a 24-hour juice detox tailored to your lifestyle.
Her beginners detox includes a range of 100% organic, nutritionally alive juices that promise to sustain you for the day. The garden fresh produce is cold-pressed and left raw to keep the goodness intact. A fresh batch of brightly coloured super foods arrive at Kemara's inviting little kitchenette daily.
Juicing gives your body instant access to the micronutrients, antioxidants, vitamins and minerals available in fruits, vegetables and leafy greens, bypassing the process of breaking down fibres. Meanwhile your body, with the help of nutrients, will excrete toxins through sweating and trips to the toilet. The down time that you give your body will also stimulate your system's natural ability to eat and replace dead or decaying cells with healthy cell parts.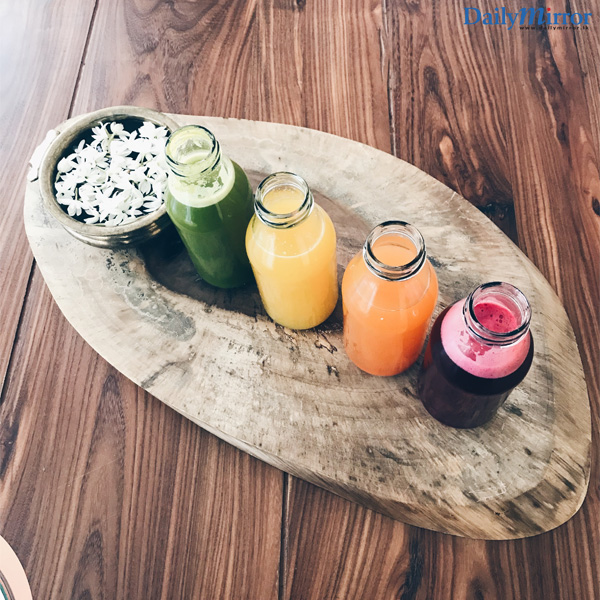 Your detox may include a lymphatic massage, gentle exercises like yoga or stretching and meditation for added effect.
Tall glasses of green goo is not what juicing at Kemara look like. Kishani combines serious foods with equally fortifying yet yummy ingredients such as pineapple, sweet coconut water and her signature edible essential oils like grapefruit, lemon, tangerine and basil. To debunk another myth, juicing is not a diet. You are not fasting, but feasting on Mother Nature's abundance of nutrient rich produce. When foraged correctly, fruit and vegetables can easily supplement the kick you get from sugar, carbs and fats.
Juicing the Kemara way is safe and surprisingly fun once you get past the sensation of drinking your meals. But if that's the only challenge, then the benefits outweigh this new way of eating. Juicing novices will first experience a lightness of the body even though their hunger is satisfied. A boost of energy comes next, although you have to be careful not to overuse it at the beginning.
Give the internal clean up a few more days and watch your body shine. Experience a faster metabolism, strengthened immunity, deep sleep, a clearer-head, glowing skin and energy you never knew you had. When you are ready, Kishani will upgrade you to a 4-day bliss challenge juice detox or a customised juice plan.
Our bodies are naturally able to get rid of waste. But over the years, an overhaul of toxins have entered our bodies, through lead pollution, medication, alcohol, fertilizers and pesticides, sweeteners and additives. With our bodies working on overdrive to get clean, much of what is supposed to leave our bodies are materialising as weight gain, stress, lethargy, autoimmune diseases, mental illness, gluten and lactose intolerance and non-communicable diseases. So now is as a good time as ever to get on the juicing bandwagon.
Sign up for a clean start this month with a 10% special offer on free juice detox deliveries within Colombo city limits. Call Kemara on 011 2 696498 for details.