---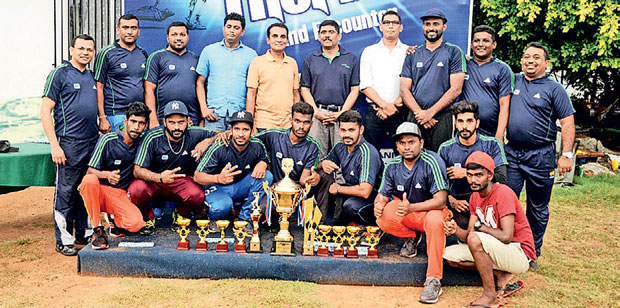 Kelani Cables PLC led the Kelani Challenge Trophy 2017 annual cricket tourney at the Bloomfield Cricket Club grounds in Colombo.
The six-aside cricket tourney was held for the second consecutive year with the participation of companies that are Kelani Cables PLC customers in the construction sphere.
Sri Lankan cricketer and ICC umpire Ruchira Palliyaguru with Kelani Cables PLC General Manager Sales Anil Munasinghe represented the tournament as chief guests that showcased 30 six-a-side cricket teams representing leading companies in the local
construction sphere.
Kelani Challenge Trophy 2017 was clinched by the Melwire Rolling Company cricket team and the second and third places were secured by the T H K Electrical Company and Nawaloka Construction
company teams.
Manoj Tharanga of T H K Electricals Company became the Best Batsman of the tournament while A. Kathpagarajah of Melwire Rollings Company was selected as the Best Bowler.
R. Logeshwaran of Melwire Rollings Company was awarded as the Best Player of the final and deciding match. P. Chandramohan of Blue Ocean Company was awarded as the Man of the Series.
Kelani Challenge Trophy 2017 Coordinator and Kelani Cables PLC Marketing Manager Exports Devinda Lorensuhewa said, "All leading companies in the construction sphere in Sri Lanka do business with Kelani Cables PLC throughout the year. Yet, we seldom get a chance to associate with them in a relaxed and
cordial manner.
Kelani Cables PLC initiated this annual cricket tourney, Kelani Challenge Trophy, with the intent of associating with our business partners in the construction sphere with a friendlier manner. Thus, this is a golden opportunity to mix up with our business partners in a relaxed atmosphere. It also enhances the sporting abilities of company members. We are happy that all companies in the construction field have joined hands with Kelani Cables to participate in this mega event."
Kelani Cables PLC is a 100 percent Sri Lankan company serving the nation for 48 years manufacturing electrical and communication cables. The company achieved the 'Superbrands' status in the electrical and telecommunication sector in 2008 for professional supremacy it demonstrated in the electrical and communication cables sphere.
In 2012, Kelani Cables PLC clinched the Bronze award for the Excellent Business Brand category at SLIM Brand Excellence. It clinched Gold at SLIM Brand Excellence once again in 2013 for the same category.
The company secured Gold at the SLITAD People Development 2013 award ceremony for the contribution it has made towards training and development of the workforce plus upkeeping their welfare.
Kelani Cables PLC is the proud recipient of ISO 9000:2008 certification for quality, ISO 14001:2004 for better environment management, National Standards award and the Gold winner of Taiki Akimoto 5S award.
The company won the Geo Responsibility Award in 2014.
In 2015, Kelani Cables PLC was conferred with the Asia's Best Employer Brand award. Kelani Cables was recognized for sustainable development at the National Green Awards in 2015.