---
Hemas Pharmaceuticals and Hemas Logistics and Maritime Cluster Managing Director Kasturi Chellaraja Wilson has been recognised by Sri Lanka Parliament as a Women Change Maker in Sri Lanka in the Business Category.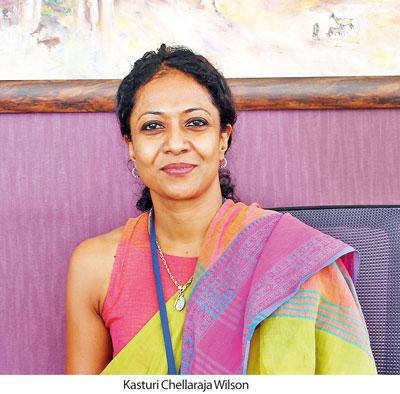 She joins 11 other prominent and well-respected women in their respective fields, which includes the world's first female prime minister
Sirimavo Bandaranaike.
The inauguration of the campaign was held recently at the Parliament Complex under the patronage of Speaker of Parliament Karu Jayasuriya.

This campaign celebrating the women of Sri Lanka and their significant contributions, both past and present, is organised by Parliament of Sri Lanka, Women Parliamentarians' Caucus and Sectoral Oversight Committee on Women and Gender, in collaboration with the US Agency for International Development's Strengthening Democratic Governance and Accountability Project.

The overall objective of the campaign is to exhibit a living history of women in Sri Lanka and provide an arena for Parliament to strengthen the future of women and girls in the country in politics and other spheres in society.

The campaign strives to inspire Sri Lanka's next generation of young women and spark a conversation that will help remind men and women what Sri Lankan women, who make up 52 percent of the population, have achieved so far and their crucial role in shaping the future.

The other individuals recognised are: Arts – Sumitra Peries (first female filmmaker in Sri Lanka), Science – Eng. (Dr.) Premala Sivaprakasapillai Sivasegaram (first lady engineer and first lady civil engineer in Sri Lanka), Politics – Sirimavo Bandaranaike (first female prime minister of the world), Education – Deshabandu Dr. Wimala de Silva (first female university chancellor in Sri Lanka), Legal – Prof. Savithri Gunasekera (first female Professor of Law at the University of Colombo and first female Vice Chancellor), Sports – Jayanthi Kuru-Utumpala (first Sri Lankan woman to conquer Mount Everest), Environment – Asha de Vos (only Sri Lankan to have a PhD in marine mammal-related research. Marine conservation focusing specifically on Sri Lankan blue whales has given her international fame), Scientific Research – Hasini Jayathilaka (scientist who is trying to outsmart cancer), Youth – Nushelle de Silva (recipient of prestigious Queen's Young Leader award for Building Bridges, a series of workshops and utilizing arts and theatre to help kids from war-affected communities), Activist – Princy Mangalika (activist in cause of persons living with HIV and Aids) and Interior Designing – Irfadha Muzammil (interior designing and currently working as an Interior Design Coordinator for Shangri-La Colombo).