---
A colourful range of umbrellas from Sri Lanka's foremost umbrella manufacturer, Kandurata Umbrellas, is the cynosure of all eyes with a whole new colourful variety of products, the Araliya Range.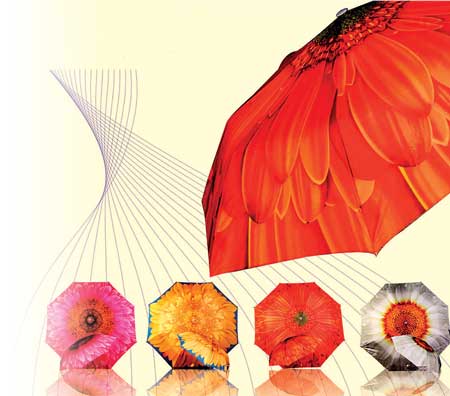 The colourful Araliya Range consists of various designs which keeps Kandurata Umbrellas highlighted and it is inevitable that the holder of a beautiful Araliya Umbrella the center of attraction even among thousands of other umbrella brands.

Manufactred according to highest international standards using the premier quality material, the new Araliya Range has already made its presence felt in the local and international markets.

Like all other Kandurata Umbrella models, the Araliya Range is also designed by the masters of the trade and manufactured using the state of the art machinery at Kandurata Umbrellas manufacturing plants at Kadugannawa, Gampola and Nawalapitiya.

The new range includes umbrellas specially made for the ladies, with beautiful flowers printed on the surface, providing a flowery look as well as the total protection to the bearer from sun rays as well as rain.

In addition to this revolutionary Araliya Range, kandurata Umbrellas also produce various kinds of umbrellas specially made for ladies, gents and kids.

Since it was founded in 1978 as a sole proprietorship by the late M.H.M. Thajudeen with only 10 employees and four machines as a cottage industry, Kandurata Umbrellas has made a remarkable growth over the years. Under the dynamic Stewardship of Deshamanya Dr. M.T.M Nawushad ( Managing Director / Chairman ) and M T M Nawufal ( Director Operations ) who manages the core business Kandurata Umbrellas which has given employment opportunities to over 1000 people. Kandurata Umbrellas has already secured the top slot in the market at the manufacturer of umbrellas as well as mosquito nets, rain coats and socks.