---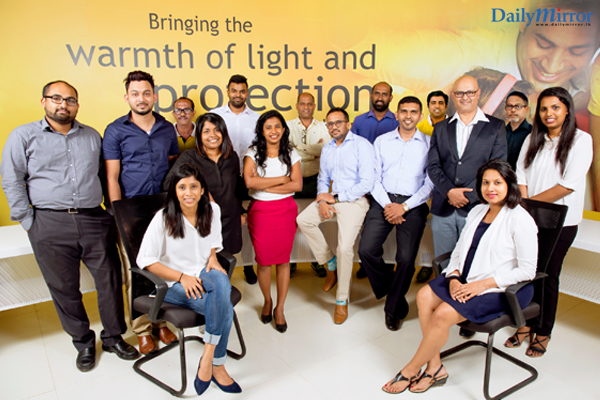 Janashakthi Insurance PLC created history at the recently held Effie Awards 2016, winning the coveted Gold Award in the Insurance category.This was the first Gold won in the insurance industry and was in recognition of Janashakthi's Life Insurance campaign 'Guiding Light for Life'. The award was one of only four Golds given out during this year's ceremony and one of eight which have been awarded since the Effies were established in Sri Lanka. The campaign was conceptualised and brought to life by Janashakthi's agency partners BBDO Lanka and MEC Sri Lanka.
Commenting on this achievement, Managing Director of Janashakthi Insurance PLC,Prakash Schaffter said, "It is an honour to be recognised at the Effie Awards, for a campaign that truly speaks to the essence of Janashakthi. Theawardis testament to the creativity and passion of the entire Marketing team and our agency partners BBDO Lanka and MEC Sri Lanka, who have collectivelycreated a campaign that touched the hearts and minds of people across the island, strengthening Janashakthi's position as a leader in the industry."
The Effie awards are particularly coveted as they go through two rounds of rigorous judging before reaching the 'Winners' Circle'. The Effie juries are comprised of senior industry leaders, who evaluate the entries on all aspects of each campaign's effectiveness.
"The Effies are considered one of the most recognised global symbols for effective marketing communication and best brand development efforts across the industry. This Gold award is further validation of our commitment to effectively engaging our audience, and of the tireless effort that is put in by our team and agency partners, towards strengthening our brand. We are proud to be the first to bring a Gold Effie to the insurance industry,"said Manindri Bandaranayake, Head of Marketing at Janashakthi Insurance PLC.
Janashakthi also recently received several other accolades for its industry-leading work in Marketing, including the 2016 Fintelekt Insurance Award for 'Marketing Initiative'for the same campaign. The 'Janashakthi Full Option Appathon Challenge' campaign won the 2017 Fintelekt Insurance Award for 'Corporate Social Responsibility Initiative", while being recognised as the 'Best Brand Marketing Campaign' at the Golden Globe Tigers 2017 Awards for Excellence and Leadership in Branding and Marketing.
A global symbol of achievement with award programs honouring effective marketing communications in 42 countries and 6 regions, the Effie Awards have been held in Sri Lanka in partnership with the Sri Lanka Institute of Marketing (SLIM) since 2008.
Janashakthi Insurance PLC, founded in 1994, made its mark in the industry as an innovator and household name over a span of two decades. As an organisation that strives to deliver excellence in Customer Service by addressing the insurance needs of its customer base, Janashakthi has an island wide branch network of 113 branches, a 24-hour call centre and around the clock assessor service. Today, the Company stands strong as a leader in Motor, Non-Motor and Life Insurance services and continues resolutely on its vision of lighting the lamp of insurance in every home and work place.