---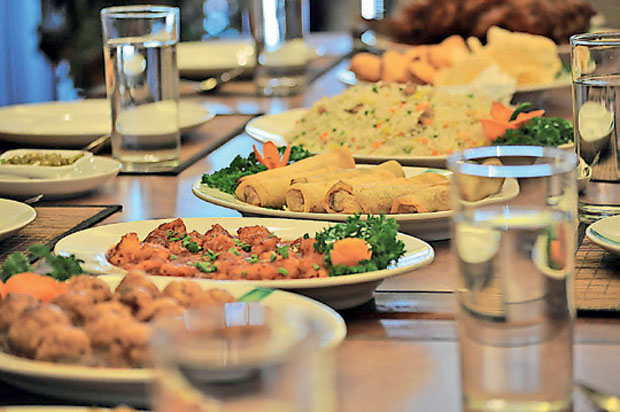 The best of the delicious Chinese cuisine could now be savoured at Jade Restaurants in Nugegoda and Maharagama where dine in customers can enjoy a 30 percent discount on Commercial Bank credit cards until April 10 on all food and beverages in the menu.
The Laugfs Labendiyawa cardholders are also offered a 10 percent discount when they dine in during this season, as an extension of Jade's year-long special discount offers.
Jade Restaurants serve a delicious array of Chinese cuisine to a discerning clientele in a relaxed and convivial atmosphere. The Restaurants chain, which was launched in 2006, has a seating capacity for 80 to 100 guests and also offers value-added services such as take-away and home delivery for the convenience of the customers.
Jade Restaurants serve delectable cuisine prepared by highly trained chefs using original Chinese recipes and ingredients handpicked by experts to provide that authentic Chinese flavour.
Speaking about the promotion, Laugfs Restaurants Director/Chief Executive Officer Ravi Dahanayaka remarked, "Both our restaurants have steadily grown to become popular among customers over the past few years because we pride ourselves in providing good value for money. I invite everyone to come and enjoy this amazing 30 percent discount on Commercial Bank credit cards offered to dine in customers at both restaurants."
The Jade Restaurants both in Nugegoda and Maharagama are open for lunch from 11:30 a.m. to 3:00 p.m. and dinner 6:30 p.m. to 10:00 p.m., all seven days of the week. The restaurants also provide facilities to host events such as kids' birthdays and anniversary celebrations, during service hours.
Laugfs is one of the largest diversified business conglomerates and a trusted name in Sri Lanka. Founded in 1995, Laugfs today has expanded across 20 industries in Sri Lanka and overseas, establishing a strong presence as a leader and pioneer in the power and energy, retail, industrial, services, leisure, logistics, international trading and real estate sectors.
With over 4,000 employees and an annual turnover exceeding Rs.28 billion, Laugfs continues to expand and empower millions as a trusted Sri Lankan brand.