---
Says move likely to increase CSE's market capitalization and liquidity
Believes to positively impact govt.'s plan to sell off non-core commercial assets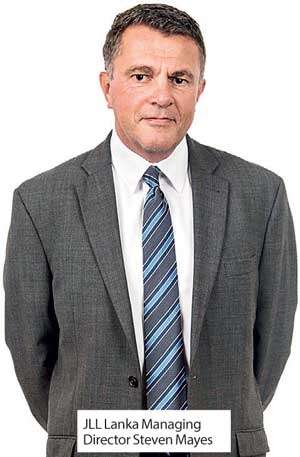 Real estate consultancy JLL Lanka this week commended the passing of the recent legislation pertaining to foreign ownership of land in Sri Lanka, noting that the move will provide a much-needed boost to investor confidence.

JLL referred to the amendment to Section 3 of the Land (Restriction on Alienation) Act No 38 of 2014, which was certified on July 30.

The amendment enables foreign companies to acquire and hold freehold land in Sri Lanka, so long as that entity is listed on the Colombo Stock Exchange, thereby lifting the previous restriction prohibiting the transfer of freehold land to a foreign company exceeding the maximum permitted holding of 49 percent foreign shareholding.

The renewed act No. 21 of 2018 (published on 3 August 2018) retrospectively comes into effect for land transfers after 1 April 2018, and removes the restriction for foreign nationals owning condominium real estate below the 4th floor of a building.
JLL noted that this relatively minor adjustment is unlikely to have a significant impact in urban areas such as Colombo but could prove to be a major attraction for foreign investors looking to buy dream condominium homes in coastal areas, where low rise residential projects have previously been limited to tree top height.
Shrewd developers will acknowledge the powerful combination of improved access via the Hambantota Expressway extension and lifted restrictions, JLL said.
The key development is the removal of the 49 percent foreign shareholding restriction, which had long been lobbied for by the capital markets and real estate sectors. This restriction was widely viewed as a barrier to foreign direct investment and an unreasonable constraint on companies that exceeded the 49 percent limit.
JLL Lanka Managing Director, Steven Mayes, noted that almost all business conglomerates in Sri Lanka have ventured into real estate and thus this move is likely to increase market capitalization and liquidity in the Colombo Stock Exchange.

The value of foreign holdings of listed shares, has declined from Rs.860 billion a year ago to around Rs.760 billion today.

Planned government divestment of non-core commercial assets such as the Hilton and Grand Hyatt hotels should also be impacted positively as the move has made transferring technical competence and capital and accessing Sri Lankan markets a much more transparent process.

Another beneficiary of improved access to foreign capital will be the soon to be launched Colombo Port City. It is estimated that in addition to the US $ 1.5 billion already invested in the Port City by the China Harbour Engineering Company, another US$ 15 billion will be required to develop a built up area of 5.65 million square metres.

Mayes also added that previously, best in class regional and global development companies were dissuaded from taking controlling stakes in projects and companies due to the 49 percent restriction. "But now the brakes are off, so to speak. We expect renewed appetite for these ventures by international stakeholders."