---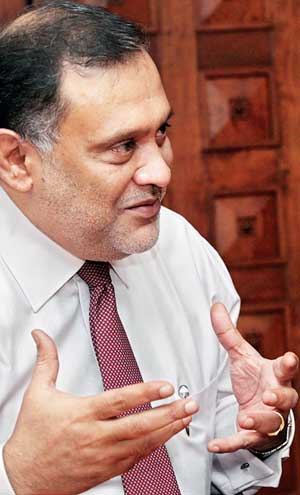 Sr i L a n k a ' s d i v e r s i f i e d conglomerate and premier bluechip, John Keells Holdings PLC (JKH) increased its June quarter net profit by a moderate 9.0 percent to Rs.2.4 billion or Rs.1.74 a share supported by stronger port operations and growing consumer food and retail business, the interim results showed.
The revenue rose by 8.0 percent year-on-year (yoy) to Rs.22.7 billion on the back of 6.0 percent yoy growth in cost of sales which resulted in a gross profit of Rs.6.6 billion, an increase of 12.0 percent. JKH and all its group companies charged the existing tax rate – which is higher in most cases- as the Budget 2016 proposed tax rates have not been enacted or substantively enacted. "If the proposed tax rates were applied in computing the tax expense (including deferred tax), the Group's tax expense for the quarter, would have decreased by approximately Rs. 138 million," the group said in a note to the financial statements.
During the quarter the group charged a corporate income tax of Rs.936.5 million, an increase of 44 percent yoy. The profit before tax of the group was Rs.3.6 billion, up 17 percent from the same period last year. Meanwhile the group's finance income also grew sharply by 32 percent yoy to Rs.2.1 billion as the group has purchased financial investments worth Rs.5.4 billion during the year to June 30, 2016.
Commenting on the performance, the JKH Chairman, Susantha Ratnayake said the group's Ports and Shipping business improved, where South Asia Gateway Terminals (SAGT) recorded double digit growth in throughput. "Whilst the group's bunkering business recorded an improvement in margins, profitability was impacted due to a decline in volumes resulting from adverse monsoonal conditions which prevailed during the quarter," he said in an earnings release. According to segmental information the transportation segment recorded a net profit of Rs.694.5 million, which is an increase of 27.5 percent over the same period last year. The top line however contracted by 30 percent yoy to Rs.2.3 billion.
The group's consumer foods and retail business increased its net profit by 47.4 percent yoy to Rs. 924.8 million on a revenue of Rs.10.9 billion, up by 28 percent yoy. The segment performance has been supported by frozen confectionary and beverage business which had a significant increase in profitability and the retail sector which was aided by increase in average basket volumes and steady growth in average footfall in supermarkets. The leisure sector bottom-line narrowed by little under 1.0 percent yoy to Rs.475. 1 million mainly due to the contracted performance in the Maldivian resorts as the recovery in arrivals had been slower after political events unfolded in Maldives in late 2015. The segment top line however expanded by 4.3 percent yoy to Rs. 4.8 billion. The property segment of the group saw both its bottom-line and top-line narrowing as the corresponding quarter in 2015 had revenues from the sales from the residential projects – 'OnThree20' and '7th Sense' both of which have now been completed. Commenting on its flagship project, 'Cinnamon Life', Ratnayake said the project is, "progressing with expected completion in 2019. The demand for residential and commercial spaces within the Project remains encouraging".
The group financial services segment which led by the insurance and the banking business posted a net profit of Rs.195.6 million, down by 25.2 percent yoy as the insurance business had a profit from the disposal of its general business during the same quarter in 2015 while the performance of Nations Trust Bank PLC had suffered due to narrowing margins during the June 2016 quarter. Ratnayake said the group's plantation business had recorded an improvement in profitability due to stabilization of tea prices. JKH plantations which captured under unclassified segment increased its net profits by 31 percent yoy to Rs. 310.8 million. "The increase in profitability is mainly on account of higher interest rates," Ratnayake said. Meanwhile in a notable development, Norges Bank, the world's biggest sovereign wealth fund has accumulated shares in JKH to own 1.0 percent stake from 0.5 percent three months ago.