---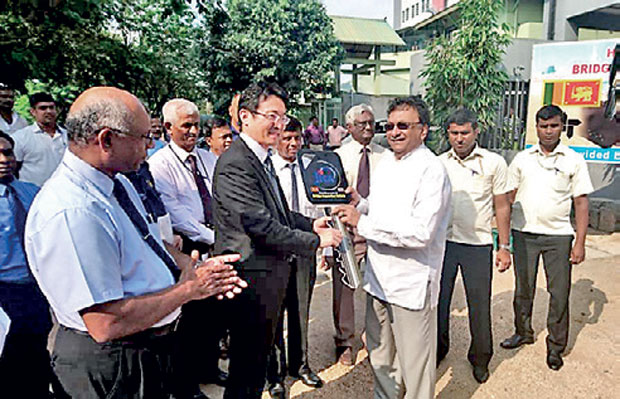 A brand new bridge maintenance vehicle from Japan was gifted by Japan International Cooperation Agency (JICA) to the Road Development Authority (RDA) of Sri Lanka yesterday.
The keys of the vehicle were handed over by Fusato Tanaka, Chief Representative of the JICA Sri Lanka Office to Highways Minister Lakshman Kiriella. The special vehicle has a working platform which could be extended from the truck to reach under the bridge deck, so that the critical but hard to reach locations could be inspected and rectified in time. The vehicle worth over 47 million Japanese Yen (approx. Rs.86 million) will be the first of its kind in Sri Lanka.
The vehicle is provided as part of the technical cooperation project on Bridge Management implemented by JICA to assist the RDA to formulate and establish systematic processes to regularly inspect and maintain bridges on the national road network.
The 3-year technical cooperation project aims to assist RDA to formulate a bridge maintenance policy, set up maintenance organization in RDA, prepare working manual for maintenance work, establish IT-based bridge management system and on-the-job training in Japan for RDA engineers to get hands-on experience and technology transfer.
"Maintenance of bridges is especially important not only in terms of protecting infrastructure assets constructed with public funds, but also in terms of public safety. The potential risk of grave damage is greater in bridge infrastructure. But inspection and maintenance of bridges are more complex and difficult than on road sections, and may get postponed or disregarded.
"Our technical cooperation hopes to assist RDA to address these issues by setting up a bridge management system at RDA together with equipment such as this bridge maintenance vehicle. We hope RDA will make good use of the Japanese technology and experiences shared, and ensure a safe and smooth drive for the road users in Sri Lanka", said Fusato Tanaka, Chief Representative of JICA Sri Lanka Office.