---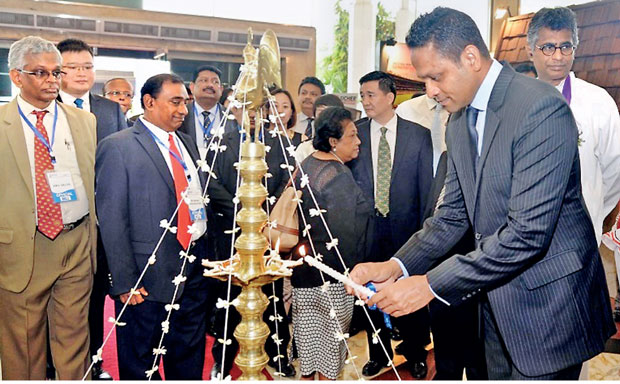 JAT Holdings powered the recent 16th edition of the massive Construction Expo 2016 exhibition, which attracted thousands of visitors to the Sirimavo Bandaranaike Memorial Exhibition Centre (SBMEC) in Colombo over the last weekend of last month.
JAT Holdings Managing Director Aelian Gunawardene said, "It gave us great pleasure to join hands with Construction Expo 2016, the largest and the most popular construction industry-related exhibition in Sri Lanka."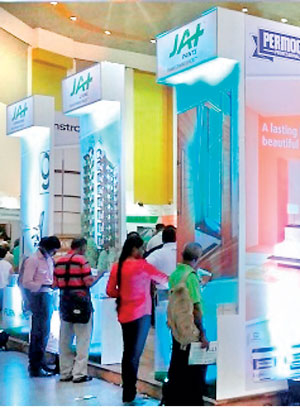 He added, "This exhibition seamlessly and very successfully brought together the entire value chain of the building and construction industry to a single venue and with great visibility. As one of the leading players in Sri Lanka's construction industry we have a lot to offer this rapidly changing and demanding industry with our strong portfolio of products and services."
The JAT stall was among the most visited stalls during the three-day exhibition, attracting a few thousand visitors per day. An impressive array of global brands, which make up JAT's growing product portfolio, was made available to the public. Among them were Sayerlack, Crown Paints, Permoglaze, Norton, Armstrong, Herman Miller, and Alno. Adding a personalised touch to the JAT experience was the presence of the 'JAT A+ Team', which was at hand to answer all questions and customise the visitor experience.
JAT goes on record as having transformed the wood coatings industry in Sri Lanka and South Asia in 2000 by introducing water-based solutions, creating an entirely new segment in the category which it continues to dominate with 75 percent market share. With 18 percent revenue growth and 38 percent net profit growth in 2014/15, the rebranding affirms JAT's vision of the unprecedented opportunities ahead.
The brand's aggressive new marketing approach includes sharpening its strong sales and distribution capabilities in Sri Lanka, India, Pakistan and Bangladesh. The company is also increasing its office space by constructing a futuristic complex that provides convenient consumer access to its living, furnishing and paints businesses. With expectations to grow upon its already impressive product and service lines, JAT is well positioned to offer its customers in Sri Lanka and abroad exceptional and enriching experiences through an even more comprehensive offering.