---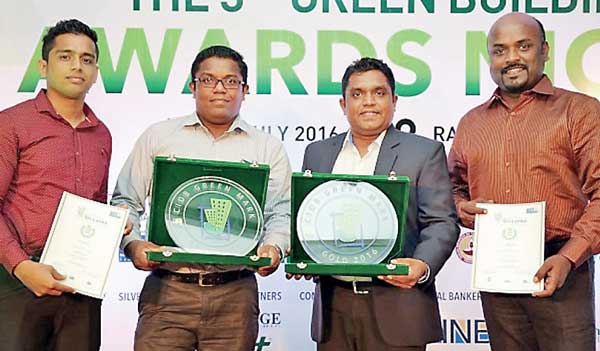 Team JAT with new Green Label Awards (L to R) Ashan De Silva, Charith Peramune, Wasantha Gunaratne and R. Dharmendran
JAT Holdings, Sri Lanka's pioneer furnishing and finishing company was recently awarded two Green Labels by the prestigious Chartered Institute of Buildings (CIOB).

JAT Holdings now sets a precedent as being the only Sri Lankan manufacturer on record which has won a total of five Green Label certifications, in recognition of its production and design of futuristic innovative building and construction materials. The Green Labels are also testament to the company's core values which are to rigorously pursue an Earth-First policy in every venture it undertakes.

These follow fast on the heels of the two Green Labels Gold Awards JAT Holdings received recently for Wall Filler and Wall Putty and three other Green Label Awards it won under the Paint and Coatings category. The company was also awarded two Gold Awards for Permoglaze Exterior Emulsion and Permoglaze Interior Emulsion and a Silver Award for its Permoglaze water-based enamel range.

"We have been diligently striving to ensure all our all products and innovations are in keeping with the highest standards while maintaining a resolute commitment to be socially responsible to Mother Nature", said Aelian Gunawardene, Managing Director, JAT Holdings. "It gives us immense pleasure and pride to know that the collective efforts of our team, are recognised and appreciated".

The CIOB Green Mark Award Scheme is accredited by and affiliated to the Building and Construction Authority of Singapore, Council of Research and Innovation in Building and Construction (Netherlands) Green Building Council (Singapore) and the Central Environment Authority (Sri Lanka). The initiative aims to inculcate better practices in Sri Lankas construction industry towards a cleaner and more environment friendly innovations and operations.

While promoting internationally recognised brands in the island, JAT which has always been synonymous with innovation and progress, has housed a sophisticated research and development laboratory to manufacture its state-of-the-art products. Through its stringent commitment to continuous monitoring and controlling processes geared towards creating innovative cutting-edge technology, JAT has ensured its unflinching support for the nation's initiatives in becoming environmental friendly by working tirelessly to meet global green expectations.

JAT Holdings current product portfolio includes an enviable range of Decorative, Domestic and Industrial Emulsion, Exterior Wall and Enamel Paints, Maintainers, Putties and Plasters, Mineral Fibre or Steel Ceilings, Timber Flooring and Decking, Office Seating and Desking, Carpeting, Abrasives and
Paint Brushes.

JAT has continued to provide avant-garde solutions to spearhead the finishing industry to the prestigious position it holds today, representing world renowned brands such as, Sayerlack wood finishes from Italy, Permoglaze decorative emulsion and weather-coat paints from the UK and Herman Miller Office Seating from
the USA.

Furthermore, the plethora of support mechanisms in the form of ongoing training, incentives and conducive work atmosphere, it comes as no surprise that JAT Holdings is ranked among top 25 Great Places to work in Sri Lanka; indicative of the fact that the employees of JAT are among the most privileged work force in the business today.