---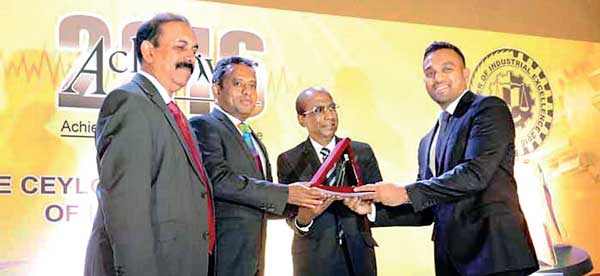 Richard Gunawardene (Director- JAT Engineering) receiving the award
JAT Holdings, the pioneer of the timber coatings industry in Sri Lanka, Bangladesh and the Maldives and Sri Lanka's leader in the furnishing and finishing industry in Sri Lanka, boasting an impressive portfolio of products, won two prestigious awards including a Merit Award at the recently concluded Ceylon National Chamber of Industries Awards ceremony held recently at the Galadari Hotel in Colombo. Among them was an accolade conferred in recognition of it being ranked among the Top 10 Manufacturers in Sri Lanka.

"Receiving these two awards is immensely gratifying not only for me personally, but for the entire JAT team, for all the effort, hard work and time that we've invested in nurturing this Company to its current status today. To receive this award from the premier industrial chamber of the country endorses the fact that our products have the stamp of national recognition as an industrialist of repute for our achievements in the manufacturing sector. This attainment has inspired us even further in our endeavours to reach the pinnacle of perfection in all we do", said Aelian Gunawardene, Managing Director of JAT Holdings.

JAT has created a new, unified brand architecture that reflects the Company's operating segments and cross-selling opportunities with a crystal clear perception within and between its businesses. The vast array of services covered include; JAT Living, which provides an extensive selection of business process management, design, engineering and construction planning solutions, JAT Furnishing which delivers innovative kitchen, home and office furnishing products and accessories, and JAT Paints, which offers wood coatings, paints, painting equipment and supplies including paint brushes, putties, and plasters, and sandpapers, ceilings and floorings.

Enviably ranked among the top 25 workplaces to work in Sri Lanka by Great Place to Work, JAT Holdings had humble beginnings albeit a clear mission of achieving professionalism of its goals. Founded in 1993, it has increased its portfolio assiduously during the past 23 years to include global brand leaders such as Sayerlack, Crown Paints, Permoglaze, Norton, Armstrong, Herman Miller, and Alno.

Moreover, in 2000, JAT transformed the wood coatings industry in Sri Lanka and South Asia by introducing water-based solutions, creating an entirely new segment in its category; one which continues to dominate 75% of the entire market share.