---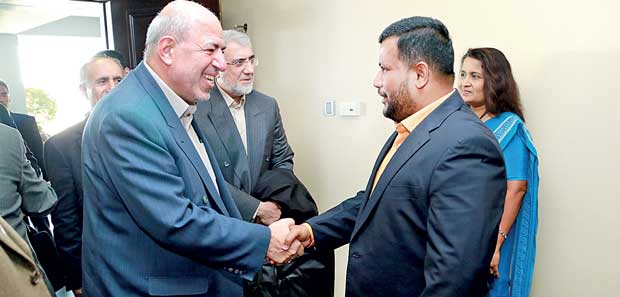 Iranian Energy Minister Hamid Chitchian is welcomed on behalf of the Government of Sri Lanka by Minister of Industry and Commerce Rishad Bathiudeen
The Iranian Energy Minister Hamid Chitchian leading an Iranian delegation arrived in Colombo this week for the 11th Joint Commission for Economic Co-operation (JCEC) sessions that begin today in Colombo.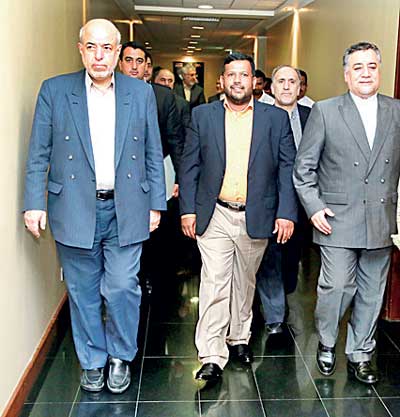 The delegation consists of members from both government and the Iranian private sector as well as Iran's biggest Chamber.

During the meet, Sri Lanka is looking for ways to increase exports to Iran while the Iranian team is looking to renew a multi-tiered trade cooperation approach with Sri Lanka.

Among the Iranian firms in the delegation are MAPNA (railroads and locomotive supplier), FARAB (heavy infrastructure including reservoirs), SUNIR (electrification and mega scale engineering projects) as well as Iran's biggest Chamber, Iranian Industry, Mines & Trade Chamber. Several reps in the delegation are from Iran's Ministry of Petroleum, and the state owned petroleum giant the National Iranian Oil Company (NIOC).

The delegation, with Iranian Ambassador in Colombo Mohammed Zaeri Amirani is scheduled to visit the Uma Oya project funded by Export Development Bank of Iran.

According to the Department of Commerce, bilateral trade between the two countries surpassed US$ 1 billion in 2011 (at US$ 1.6 bn) and in 2012 two-way trade totalled US$ 857.81 mn. Trade declined thereafter due to unconditional decrease of imports from Iran and as a result, last year's total bilateral trade stood at US$170 mn. Sri Lanka used to import its petroleum requirements from Iran till 2012 (50000 barrels a year), and after the sanctions took effect in 2012, total trade declined to US$660 mn from 2011's US$1.4 bn.

Minister Bathiudeen, who officially welcomed the delegation as the Minister of Commerce of Sri Lanka, said: "We are ready to re-commence our trade with post-sanctions Iran. This is a new beginning. I visited Iran twice during the time of sanctions. Despite sanctions Iranians supported Sri Lanka during its war and we are thankful to the people of Iran. We warmly welcome the official delegation from Tehran for this year's Joint Commission Talks here".