---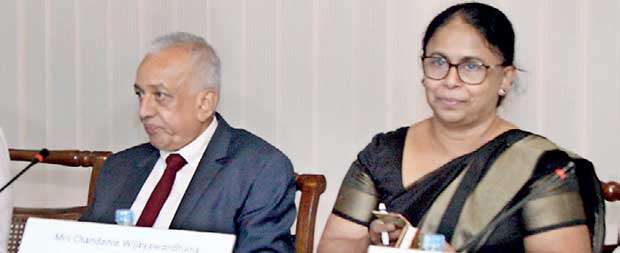 From left: Development Strategies and International Trade Minister Malik Samarawickrama and Ministry Secretary Chandani Wijewardana
Pic by Damith Wickremesingha
Gross R&D expenditures expected to increase to 0.8% of GDP by 2022

By Nishel Fernando
Development Strategies and International Trade Minister Malik Samarawickrama is likely to present the 'Innovation and Entrepreneurship Strategy (IES) of Sri Lanka 2018-2022' to the Cabinet in two weeks.

Speaking to Mirror Business on the sidelines of a seminar organised by the Organization of Professional Associations recently, Development Strategies and International Trade Ministry Secretary Chandani Wijewardana said that the ministry was initially targeting to present the final version of the blueprint to the Cabinet before the end of this month.
However, she noted that due to some delays, it would be likely to be submitted to the Cabinet in the second week of October. Wijewardana revealed that the ministry has secured the approval of private sector stakeholders for the IES.

The financial allocation for the implementation of the operational objectives proposed in the strategy over a five-year has been estimated at approximately US $130 million.

However, according to the draft document, not all instruments will span the full five-year time-frame of the strategy as some will take a longer time to set up and may first require legislative or regulatory changes.

Moreover, a detailed strategy action plan is expected to be developed within three months of the adoption of this strategy.

This IES proposed an increase in gross research and development expenditures (GRDE) to approximately 0.8 percent of GDP by the end of 2022 from the current 0.1 percent while at the same time incentivizing private sector R&D expenditures to reach more than 50 percent of total expenditures by 2020 (starting from 46 percent as of now).

IES indentified that a detailed public expenditure review of science, technology and innovation as the first step in reforming the public R&D sector to identify and understand the effects and impact of existing public R&D support programmes and subsequently to redesign these programmes to re-align them with the objectives of this strategy, including improving research excellence and relevance in Sri Lanka.

In identifying the difference between start-up's and an SME's, the start-up community in Sri Lanka has proposed a few areas to focus on including changing company structure to attract venture capital funds for local start-ups, exchange control regulation, one-stop-shop to regulate investments to start-ups, setting up a payment gateway, incubation and accelerator programmes around the country etc.

IES is centered on achieving key strategic objectives: supporting SMEs in developing higher value-added products and services for exports, building the ecosystem for scaling growth-oriented start-ups and modernizing and re-aligning the R&D sector.

IES is expected to lay the ground for transformative actions to address these challenges. The strategy is part of a wider set of reforms that also include the adoption of the National Export Strategy and the National Quality Infrastructure Strategy.