---
IFC, a member of the World Bank Group, announced the Women in Work programme in partnership with the Government of Australia, aimed at providing Sri Lankan businesses with strategies and tools to create more and better private-sector employment and business opportunities for women.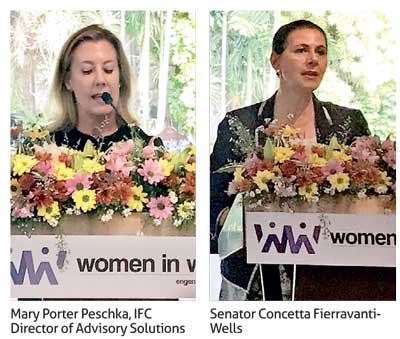 The four-year, US.$11.5-million programme, funded by the Australian government, was launched by Australia's Minister for International Development and the Pacific, Senator Concetta Fierravanti-Wells and Mary Porter Peschka, IFC Director of Advisory Solutions. A group of leading private-sector companies also participated in the launch.
"Supporting firms to create more and better jobs for women, including in leadership, has the potential to increase profits and drive economic growth to benefit of all Sri Lankans," said Minister Fierravanti-Wells. "Utilizing the full potential and talents of Sri Lankan women also reduces social inequality."
The Women in Work programme will be delivered through collaboration between IFC and the private sector. The programme focuses on demonstrating that corporate performance can improve by closing gaps between men and women in the private sector.
"Several leading Sri Lankan firms already benefit from women in leadership roles and in the workforce. They promote flexible work and have zero tolerance for workplace harassment," said Peschka. "The Women in Work programme builds on best practices and IFC's experience to establish a coalition of businesses committed to further engaging women and strengthening their role in Sri Lanka's economy."
The programme also supports better access to financial services for women.
Women entrepreneurs, employees, suppliers, and leaders are engines of economic growth and opportunity. IFC provides private-sector companies investment and advisory solutions to create equal opportunities for women and men to participate in the private sector.