---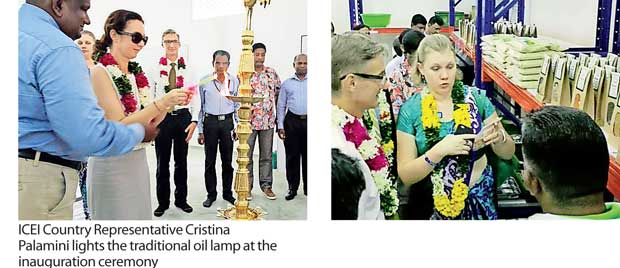 ICEI and Overseas, international organisations together with 'Ecowave', which is a local social enterprise, had successfully worked on areas of rural development and eco-tourism in Sri Lanka since the year 2005.
The latest news of their tireless efforts on achieving project objectives and core mission of Ecowave comes in the form of a newly-built processing centre in the Monaragala District of Uva Province in the Island.
It has further been supported by VEGA BIZ+ programme. The 'Sri Lanka VEGA/BIZ+' (Volunteers for Economic Growth Alliance) scheme sponsored by the USAID, which is a programme that promotes economic growth in economically lagging districts in Sri Lanka and reduce income disparity in those regions.
Achieving another great milestone, inauguration of this specifically constructed spice unit and bio fertilizer laboratory was held recently at the New Industrial Zone located in Buttala. The ceremonial opening was graced by Ecowave Chairman Suresh De Mel with the patronage of ICEI Country Representative Cristina Palamini and VEGA BIZ+ programme Chief of Party Michael Parr. USAID Acting Head of Mission Elisabeth Davnie Eston participated as the chief guest of this event.
Ecowave's authentic spices and herbs manufactured under the brand 'Ecowave Spices' processed with strict quality standards are available for local and the niche market. In this series, Ecowave is giving you the inside scoop on its process, all the products are processed and packed naturally and under hygienic condition to give the real taste and optimum benefits to customers.
The organisation would further expand its capacity by establishing this spice processing plant and liquid bio-fertilizer manufacturing laboratory while achieving main project goals of developing eco-friendly agriculture among local farmers.
Addressing the media, Palamini mentioned during the inauguration ceremony that Sri Lanka, as a developing nation, which has a history of traditional agriculture in the ancient past, could explore the great potential to pioneer into the area of sustainable agriculture as a beacon for the other developing countries. We are confident of this new venture and its capacity in the form of Ecowave spice processing unit and bio fertilizer laboratory, which will definitely move on to assist and uplift livelihoods of Sri Lankan farmer community, Palamini continued to explain.
ICEI Marketing Officer Niroshana Karunaratne also shared his views at this event and mentioned that everyone including the guests, participants and all the stakeholders deserve big thank you for making this event a great success and colourful day!
Karunaratne further commented, "ICEI is assisting the Sri Lankan cultivators and farmers to regain this glorious past. Sustainable agriculture is not only working with the nature, protect the environment, but also a method of building a healthy nation. The combined efforts of everyone working at ICEI and Ecowave had successfully introduced the concepts of eco-friendly agriculture over the last 12 years in Sri Lanka."
Ecowave has continued to work with smallholder farmers in the Monaragala and Ampara Districts who produce spice and other allied products such as pepper, turmeric, ginger and herbs, linking the value chains that have been developed to the market. The project also aims at shortening the producer-to-consumer chain, thus creating added value for the farmer community.