---
The International Chamber of Commerce Sri Lanka (ICCSL), the sole authorized entity in the country to issue 'ATA Carnets', has streamlined the issuing of the permits by reemphasizing that the ATA Carnet is the perfect choice for a hassle-free importation of goods via the Customs.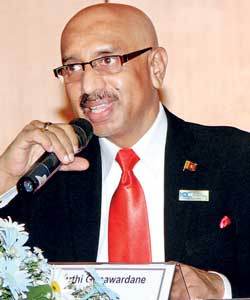 ATA Carnet is an international Customs document issued by the International Chamber of Commerce (ICC), which permits duty-free and tax-free temporary import of goods for up to one year.
With an ATA Carnet, salesmen, exhibitors and other business travellers could make advance Customs arrangements at predetermined cost, visit as much as many countries, use their ATA Carnet for several trips during its one-year validity, return to their home country without problems and delays among many other benefits.
Not only Carnet holders are free from posting securities with the Customs, ATA Carnets also reduce costs of exporters by elimination value-added tax (VAT) and customs duties.
Carnets simplify the Customs border crossings and cut red tape by allowing importers and exporters to use a single document for the Customs formalities.
Trade show and fairs, tourism and transport industries, entertainment industry and concert promoters, sports events like the Olympic Games and similar events and any country wishes to take full advantage of the global economy could receive benefits from having a Carnet.
Commercial samples, professional equipment and goods for use at trade fairs, shows and exhibitions are a few of the categories of goods ATA Carnets cover.
Carnets cover a wide range of products belonging to aforementioned categories including computers, repair tools, photographic and film equipment, musical instrument, industrial machinery, vehicles, jewellery, clothing, medical appliances, aircraft, race horses, art work, prehistoric relics, ballet costumes and rock group sound systems.
However, this certificate issued by the ICC does not cover perishables or consumable items or goods for processing or repair.
"The ATA Carnet system is a perfect illustration of how close cooperation between business and Customs can facilitate international trade. Each country in the ATA chain has a single guaranteeing organisation approved by its national Customs authorities and the World Chambers Federation (WCF). The guaranteeing body is entitled to issue ATA Carnets and to authorize local entities to deliver Carnets on its behalf," said ICCSL Chairman Keerthi Gunawardane.
In Sri Lanka, the ICCSL, the sole authorised entity to issue ATA Carnets, has issued about 500 ATA Carnets and worth of goods covered US $ 12,020,906 in 2016.
Fees for a Carnet could vary by country and are determined by the value of the goods, the number of countries to be visited, the costs for security and insurance or other services.
ATA Carnets are issued and accepted in 78 countries and territories: Albania, Algeria, Andorra, Australia, Austria, Bahrain, Belarus, Belgium, Luxembourg, Bosnia-Herzegovina, Brazil, Bulgaria, Canada, Chile, Chinese Taipei, Côte d'Ivoire, Croatia, Cyprus, Czech Republic, Denmark, Estonia, Finland, France, Germany, Gibraltar, Greece, Hong Kong, China, Hungary, Iceland, India, Indonesia , Iran, Ireland, Israel, Italy, Japan, Korea, Latvia, Lebanon, Lithuania, Macao, Macedonia, Madagascar, Malaysia, Malta, Mauritius, México, Moldova, Mongolia, Montenegro, Morocco, Netherlands, New Zealand, Norway, Pakistan, Poland, Portugal, Romania, Russia, Senegal, Serbia, Singapore, Slovakia, Slovenia, South Africa, Spain, Sri Lanka, Sweden, Switzerland, Thailand, Tunisia, Turkey, Ukraine, United Arab Emirates, United Kingdom,
United States.
The initials 'ATA' are an acronym of the French and English words 'Admission Temporaire/Temporary Admission'.