---
Says country's economy in a challenging state
Commends President's decisive leadership in fighting deadly pandemic
Recommends targeted quarantining and isolating post-lockdown
The International Chamber of Commerce (ICC) Sri Lanka yesterday said it fully supports President Gotabaya Rajapaksa's initiative to re-open the Sri Lankan economy safely, prudently but decisively and to move towards restoring economic activity at levels allowable within safe public health limits.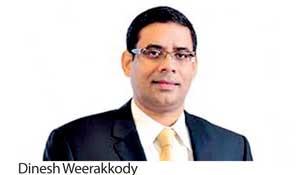 The Chamber pointed out that the economy is in a challenging state and the continuous shutdown of the key GDP generating districts would undermine the viability of businesses, entire sectors, and millions of livelihoods."Under the leadership of the President, the country has done commendably well to contain the pandemic (at a prudently managed economic cost),
with rigorous contact tracing and quarantining measures. We have thus far seen very low fatality numbers in Sri Lanka.

Throughout Asia recovery rates are around 96 percent. We must therefore look at the mortality and recovery rates, which are heartening here and in much of Asia. The contribution and the untiring efforts of the medical professionals, public health authorities, the tri-services and the police should be commended," ICC Sri Lanka said
in a statement.

And going forward, under the President's leadership and the Task Force, ICC Sri Lanka Chairman Dinesh Weerakkody noted that the Chamber will work to comply with 'best practices' in terms of social distancing, hygiene, remote work , wherever possible, splitting shifts where necessary, and letting people return to work and to their livelihoods.

"Where there are spikes as may happen, post lockdown, or when we open borders, targeted quarantining and isolating, rather than shutting down an entire city or district, much less the entire island, would be the prudent way forward, while safeguarding the health and safety of our citizens alongside an effective public healthcare system," the statement added.