---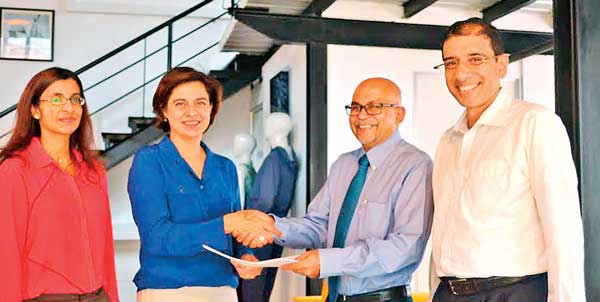 From left: Priyanka Coorey, Senior Investment Officer, IFC; Amena Arif, Country Manager, IFC Sri Lanka and Maldives; Dian Gomes, Chairman, Hela Clothing (Pvt) Ltd; Dilshan Perera, Finance Director, Hela Clothing (Pvt) Ltd
IFC, a member of the World Bank Group, has partnered with leading local apparel manufacturer Hela Clothing (Pvt.) Limited to boost trade opportunities for Sri Lanka's apparel industry through a trade-supplier finance facility.

Hela Clothing is the latest apparel company in Sri Lanka to join IFC's Global Trade-Supplier Finance programme.

Through this facility, IFC will provide a supplier-finance credit line to Hela Clothing against receivables from selected international buyers, providing working capital directly to the company.
"Hela clothing prides itself in developing world-class products that establish the company as a trend-setter in the global market-space. IFC's trade-supplier finance programme will bring greater flexibility to our operations allowing us to continuously innovate and meet the evolving needs of the apparel market. We intend to become more competitive within the global apparel industry," said Dian Gomes, Chairman of Hela Clothing.
Supplier finance is a scalable and manageable way for suppliers in emerging markets to access affordable financing against receivables from customers. The product offers suppliers an additional source of flexible, affordable funding and may allow the buyer to negotiate longer payment terms or better prices.

"As IFC's portfolio grows in Sri Lanka, we are looking at new ways to support companies involved in vital export sectors of the country," said Amena Arif, IFC Country Manager for Sri Lanka and Maldives. "Through this trade supplier finance programme, Hela Clothing can access much-needed financing and grow its business while effectively managing risk." Established in 2010, the IFC Global Trade Supplier Finance program is a $500 million multicurrency investment and advisory program that provides short-term finance to emerging market suppliers and small and midsize exporters. The program also helps banks that offer supply-chain finance to increase their presence in emerging markets. The GTSF program offers differentiated pricing based on the social and environmental performance of suppliers.

Hela Clothing (Pvt.) Limited is a $140 million apparel-manufacturing group with a history of over 25 years. The two main clusters; Hela Intimates and Hela Casual, which produce intimate wear, active wear, casual wear, and kid's wear consists of a total of 15 production facilities, of which 13 are within Sri Lanka and two in Kenya and Ethiopia. Design offices are spread across Sri Lanka, London, and New York with expert designers dedicated to creating future-proof and innovative designs.