---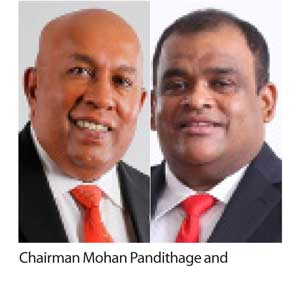 Diversified conglomerate Hayleys PLC saw its June quarter (1Q17) net profit narrowing 32 percent to Rs.354.9 million or Rs.4.73 a share from a year ago due to poor performances by some of the group's key business segments amid steep increases in overheads and finance costs seen rising, interim results showed.

Following the results, Hayleys share lost 40 cents or 0.13 percent to Rs.300 at yesterday's market close.
The group top-line rose by a moderate 9 percent year-on-year (yoy) to Rs.24.1 billion but the 11 percent yoy increase in direct costs slowed the gross profit growth to just 6 percent yoy to result in Rs.5.38 billion for the quarter.
The rising overheads were noticeable throughout the group as both distribution and administrative costs rose 13 percent and 10 percent, respectively, to Rs.812.9 million and Rs.3.1 billion each.
The net finance cost jumped by 28 percent yoy to Rs.637.8 million as the group borrowings rose during the period.

The segmental information showed that some of the key segments, which generally lift the group performance, failed to generate better performances.
The troublesome plantation sector turned a massive operating loss of Rs.103.4 million against a profit of Rs.15.6 million during the corresponding period last year. The group's hand protection unit continued to suffer from loss of market share due to a temporary closure of a factory, which delayed production a few years ago.

This unit made an operating profit of Rs.154.8 million as opposed to Rs.213.2 million a year ago. Meanwhile the group's largest transportation and logistics business generated only Rs.287.4 million operating profit against the Rs.397.8 million profit a year ago.
The group's leisure unit which made inroads into Maldives through the acquisition of a resort in July 2016, made only a limited impact on the group as the operating profit came down to Rs.46.2 million from Rs.71.6 million a year ago.

Hayleys was the third Lankan entity after Aitken Spence and John Keells, to make a foray into the Maldivian leisure sector which is currently undergoing a slowdown due to poor arrivals. Some of the other mid-sized leisure sector operators have also expressed interest in making off-shore investments in Maldives.

Despite the consumption demand remaining relatively strong during the June quarter, the group consumer product segment turned a net operating loss of Rs.9.7 million from Rs.41.2 million a year ago.
Meanwhile the group's purification unit increased its operating profit to Rs.284.1 million from Rs.244 million a year ago.

The construction materials segment too increased its profits to Rs.133.5 million from just Rs.70 million.
Hayleys in March 2016 acquired 75 percent equity stake in Fentons Ltd, a 95 year old company with expertise in integrated solutions for Building Systems Infrastructure, ICT infrastructure and fire protection.

"We are confident that our recent acquisitions and our current strategic direction will set the stage for another high performing year for the Hayleys group," said Mohan Pandithage, Chairman and Chief Executive of Hayleys PLC in a statement.
Further the group's agricultural segment too increased its operating profit to Rs. 329.3 million from Rs.236.8 million a year ago.

The power and energy segment made an operating profit of Rs.214 million, up from Rs.160.4 million a year ago.

As of June 30, 2016 the business magnate, Dhammika Perera together with his parties acting in concert held 50.44 percent stake, slightly up from 50.27 percent held on in December 2015.
The Employees' Provident Fund held a 4.89 percent stake being the third largest shareholder, slightly up from 4.68 percent three months ago.